Cobra Kai Review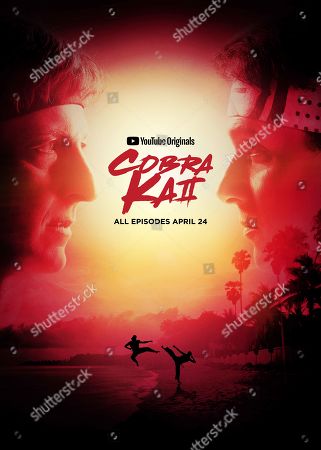 Ryan W., Editor-in-Chief
February 18, 2022
On December 31, 2021 Netflix released the fourth season of the hit-show Cobra Kai. Directed by John Hurwitz, Josh Heald, and Hayden Schlossberg, the film has been named the number one show for a week and remained in the top ten for almost a month. 
Cobra Kai was originally released on Youtube Movies on May 2, 2018, and did not make its Netflix debut until June 22, 2021. The central idea of the show revolves around the classic Karate Kid trilogy, but the main character of the show is not Daniel Larusso. The bully and All-Valley Karate Tournament runner-up Johnny Lawerence (played by William Zabka) is. 
In his 20 years after the Karate Tournament with Daniel Larrusso, Johnny has still refused to take the next step in his life. He had ruined every relationship he had, including his son Robby (played by Tanner Buchanan), but soon realizes that he has to change after meeting a boy named Miguel (played by Xolo Mariduena). Johnny reopens Cobra Kai to teach Miguel how to fight against bullies, which does not sit well with Daniel. As expected, the two fighters continue their rivalry and are constantly getting into arguments and fights, meanwhile Miguel, Robby, and Daniel's daughter Sam (played by Mary Mouser) are also getting into conflicts.
In the middle of season 2, a new character is introduced named Tory. She joins Cobra Kai, and immediately creates a rivalry with Sam. The two girls are complete opposites in terms of their personality. Sam is perceived as a nice and sweet girl, even though she causes most of the drama, while Tory is tough and aggressive. At the end of the second season, Tory and Sam's rivalry hits the peak, when a fight breaks out at school. Along with Tory and Sam's fight, Miguel and Robby face off over Sam, along with conflicts with their parents. Robby hated Miguel for replacing him as Johnny's son, and Miguel felt that Robby took Sam away from him. At the end of the fight, Miguel finds himself fighting for his life after he fell down a balcony and broke his back. 
With this shocking end to the season, fans were ecstatic for the third, which was just as action-packed as the second. Johnny's old sensei John Kreese has made his way back into the story, and becomes the main antagonist of the series. Kreese takes over Cobra Kai after Johnny hits rock bottom. Johnny blames himself for Miguel's injury and tries everything he can to get Miguel back on his feet. Most of season three is about Miguel's recovery from his injury, with bits about Sam's rivalry with some of the Cobra Kai students at school. Kreese had turned them into ruthless students who showed no mercy. His best student was a boy named Eli Moskiwitz (played by Jacob Bertrand.) After the first couple of episodes in season one, he starts to toughen up with Johnny Lawerence, and becomes one of his best fighters. The students reflected on what they saw from the fight, and felt betrayal by Johnny Lawerence. The end of season three ends on a cliffhanger that builds up into season four, when all three sensei's make a deal. Johnny and Daniel team up against Cobra Kai and whoever loses in the All-Valley tournament has to leave. 
When season four hit, there were was a ton of character changes, which made made it hard to keep up with as a viewer. Audience members had to be engaged in every scene in order to understand the story line.
In most of season four, Robby is with Cobra Kai, because he believed that it would control his anger that he had towards his dad. After seeing a boy get picked on at school, Robby decided to take him under his wing, but he turns him into an angry and violent kid.
The entire season is a build up to the last episode, where the tournament would occur. With so many things at stake, Johnny and Daniel start to push their kids too hard, and make them miserable. Miguel felt overwhelmed with emotions, and eventually runs away in search of his dad whom he had never met. In a shocking finish, Cobra Kai wins the All-Valley, but the viewers soon learn that they cheated. However, none of the characters know about this, but many fans suspect they will find out in season 5. With all of the protagonists at rock bottom, the antagonists are quickly gaining height. 
Like every season, the fourth one had lots of fights and drama. While the story presents many unrealistic scenarios, it was entertaining to watch. The directors made sure to take their time with the development of the characters, so the audience can develop emotions for them. When watching the show, it is almost impossible to turn off; there are so many cliffhangers to each episode, that it makes fans have a "just one more episode" mentality. William Zabka and Xolo Mariduena have good chemistry, and are the best actors on the show. However, the other actors are just average, so at times it is hard to engage in a scene. 
In a drama, most of the time there is not a moral to the story, and that is exactly the case in this show. The series does not present many good themes and messages, so audiences have to be careful not to take what they see on TV and utilize it in the real world. 
Some flaws in the story were the constant shifts in characters, and the slow build up to the last episode. Besides one episode, the rest were not filled with many engaging scenes. The first half of the season was just training and build up. The trailers released a few months before the show, gave too much information about the show. It felt that it was too predictable for what was going to happen each episode. The last episode did have a shocking outcome, but beside that, most of them were easy to predict. 
In the show, Daniel and Johnny are constantly switching from friends to enemies. With so many different break-ups, viewers felt that the two men would finally realize that in order to defeat Cobra Kai, they have to work together. It was always the students that brought them together, and it wasn't until the last episode that they came to terms. However, there was nothing emotional about this moment, because this scenario has happened many times, and every one has led to them forgetting everything that they have learned. Daniel and Johnny live in the past, except for when it's about learning a lesson. This at times can be irritating as a fan, seeing characters continue to relive their mistakes.
The fight scenes and language can be intense, so it's not a show for everyone. It is rated TV-14, which is accurate given the bits of profanity. While Cobra Kai does have its drawbacks, it is an entertaining show to watch.