Little Do You Know
Hang on for a minute...we're trying to find some more stories you might like.
I wasn't sure what shocked me more, the pain shooting down my leg or the terror in my mom's eyes. As our car tore through the city streets, my brain couldn't process what was happening. I don't remember much, but I do recall racing through multiple red lights. While my mom was on the phone with 911, I gasped for air while trying to maintain calm. Another jolt of pain came as my mom slammed an Epipen into my left thigh while I choked for oxygen en route to the hospital. All of this due to a small, seemingly insignificant choice that put me in the emergency room that evening.
Unfortunately, many children have had similar experiences. In fact, according to FARE, Food Allergies Research and Education, "Every three minutes, a food allergy reaction sends someone to the emergency room."  Now, normal day-to-day expectations include constantly checking the back of all food labels, inconveniencing unsympathetic workers at restaurants, and asking about meal plans while eating at the homes of friends. Imagine attending a party. My parents unfailingly remember to explain the danger of my allergies to other parents, regularly inconveniencing their meal plans.  Nothing ever comes easy about eating.
"
1 in 3 children with food allergy reports being bullied"
— FARE
Besides the awareness of a life-threatening food allergy, people need to recognize additional side effects.  "1 in 3 children with food allergy reports being bullied," FARE reports. Wanna peanut butter sandwich? Or a Payday? represent some of the callous comments made by those who don't understand the emotional weight of these allergies. Going to school can be anxiety-filled, never knowing when a fellow student has something that risks a potential reaction as he chooses to tease about it, drawing the stares and laughs of peers. What was once private and embarrassing to discuss is quickly exposed to all of those within earshot. Though people need to be aware, it comes at a cost as kids often joke about anything.
I have a peanut, egg, and tree nut allergy. Every year, I become a doctor's science fair project as 20 little needles are inserted in my forearm to test the severity of my allergies. In recent years, my peanut allergy has become worse, while my egg response has lessened. Though I have had food allergies my whole life, my family discovered this when my mom gave me my sister's leftover peanut butter sandwich. My parents recall that I started turning blue, and they immediately rushed me to the ER. I was only 2 years old. We had to stay in the hospital overnight because the doctors weren't sure what was wrong. My next allergic reaction was when I was 4 years old and I ate a Butterfinger. I started feeling very tired and my throat began to close. Soon after, police, firefighters, and paramedics rushed into the home. Another trip to the emergency room. When I was 10 years old, I recall having a loose tooth. I asked my dad to give it a pull. Little did I know he had a trace of leftover peanut butter on his hands. Within 10 minutes I was wheezing as though a rock was lodged in my throat. As I stared out the car window while gasping for breath, I feel the needle of the Epipen as my mom jammed my left thigh. Needless to say, we are now a peanut-free home.

About the Writer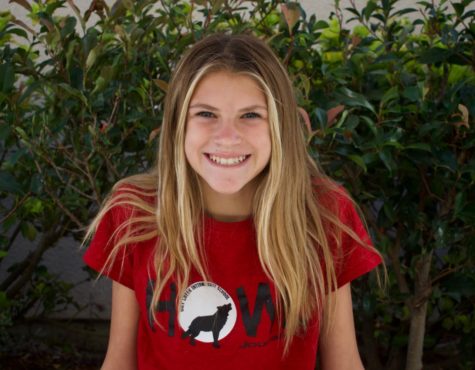 Ella D., Writer
Ella D. is a part of the 2017-2018 journalism crew. She enjoys doing tumbling and swimming in her pool. She enjoys photography. She loves asking people questions. Post Views: 441