NBA's Controversy with China
More stories from Shivani R.
On October 4, general manager Daryl Morey of the Houston Rockets sent out a tweet about the recent conflict between China and Hong Kong. He tweeted in support of the Hong Kong protestors. Some people agreed that Morey was trying to voice his opinion, while others thought that the tweet was absurd. He later deleted his tweet after the growing controversy. On the same day, Morey tweeted again and apologized, explaining, he didn't mean to cause any offense or problem. He also said his tweets are his own opinion, and they are not representing the Houston Rockets or the NBA.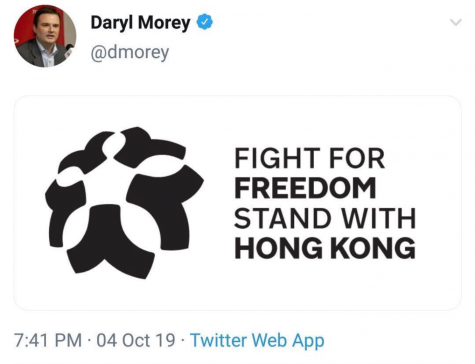 China called this an "inappropriate remark" and canceled their NBA fan night at Shanghai on October 9. China also threatened to cut off association with the NBA because of Morey's tweet. Also, some Chinese companies have stopped broadcasting the NBA, and some have discontinued some sponsorships. According to USA Today, the NBA earns about $500 million annually in China. It's simple to see why the league is working to avoid losing the Chinese market.  
On October 14, Lebron James of the LA Lakers spoke out about Daryl Morey's tweet before the preseason game against the Golden State Warriors. "I don't want to get in a word or sentence feud with Daryl Morey. But I believe he wasn't educated on the situation at hand and he spoke. So many people could have been harmed, not only physically or financially, but emotionally and spiritually. Just be careful what we tweet, what we say, and what we do. We do have freedom of speech, but there can be a lot of negative things that come with that too."
Interestingly, Lebron James is known for his strong views about various political topics. Many believe that he spoke out because he has financial ties to China. He earns a significant profit through China because of his partnership with Nike. According to Forbes, James makes approximately $32 million from his Nike brand across the world. 
Though China appeared pleased by his comment, Hong Kong protests were mad. The protestors saw dollar signs in his response. They burned LeBron James' jerseys for saying that "freedom of speech can lead to a lot of negativity." One of the protestors, William Mok, shouted to the crowd, "Please remember, all NBA players, what you said before: 'Black lives matter.' Hong Kong lives also matter!"
Shaquille O'Neal took the opportunity to agree with Daryl Morey on the opening night of the Inside the NBA. "Here as American people we do a lot of business with China, and they know and understand our values. And we understand their values. One of our best values here is America is free speech we're allowed to say what we want to say, and we are allowed to speak out on injustices, and that's just how it goes. And if people don't understand that, that's something they have to deal with."
Others believe that LeBron James had the right to voice his opinion. NBC News recently published an article called "What did LeBron James say about China that almost everyone else in the NBA hasn't said, too?" The piece argued that James wasn't saying that Daryl Morey was wrong. He was saying that Morey could have waited for an appropriate time to voice his opinions since things are already complicated with China.
"
We have no choice but to engage and to attempt to have a better understanding of other cultures and try to work through issues. What better way than through sports?"
— Adam Silver
Dr. Harry Edwards, an American sociologist, supports LeBron James: "The very same people trying to dunk on him now often had little interest in hearing about social justice causes in America — particularly when James Was involved — but, suddenly, they weirdly feel like his voice is not only valued but required. What's more, they seem to feel that his unwillingness to speak about the Hong Kong protesters voids all of his prior advocacy efforts, the school he built in Akron, the spotlight he's brought on police brutality and state-sanctioned violence and his lobbying for greater gun control according to those critics. That's not just disingenuous, it's degenerate," Edwards said.
LeBron James hopes to move forward and focus more on basketball than China's complications. James said that even he wasn't that informed about the Hong Kong – China feud. "I felt like with this particular situation, it was something that not only was I not informed enough about, I just felt like it was something that not only myself and my teammates or our organization had enough information to even talk about it at that point in time, and we still feel the same way."
NBA Commissioner Adam Silver disagreed with those who'd want the NBA to exit China, stating that the league has no option but to engage. "My personal belief is that isolationism doesn't make sense in this highly interconnected world. 
China was also accused of asking Adam Silver to fire Daryl Morey over the weekend. Bleacher Report tweeted Silver's response: "We were being asked to fire him by the Chinese government. We said there's no chance we'll even discipline him." In response, China said promised retribution arguing that Silver crossed a line.
Commissioner Silver has been clear in his intent. "We have no choice but to engage and to attempt to have a better understanding of other cultures and try to work through issues. What better way than through sports?" Silver said.
About the Contributor
Shivani R., Editor-in-Chief
Shivani loves being productive. Shivani's extra circular activities include playing tennis, piano, dancing, and is a girl scout. She works hard and strives...