Kickball at DCIS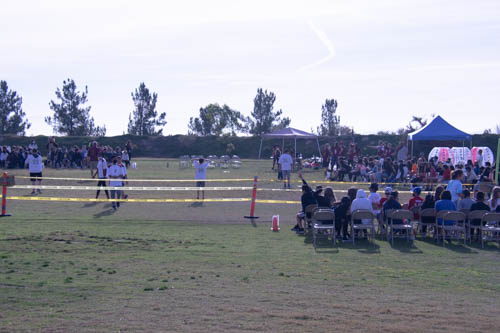 As students were guided onto the field, the sun was reflecting against the hundreds of chairs set up for the student-staff kickball game. Competitors from both teams approached the field as hundreds of students found their designated sections. The anticipation for the first true all-campus event was evident to all, begun with the playing of the National Anthem. This was a big day for everyone.  
On Friday, November 19th, Day Creek hosted three separate kickball games for the 6th, 7th, and 8th grade students. This event marked a return to semi-normalcy since the COVID shutdown robbed students and staff of event after event on the traditional calendar. 
Kickball has very similar rules to baseball. However, instead of hitting the ball with a bat, competitors use a larger rubber ball. 
"Well, it's pretty fun, getting to participate in it and chilling with the homies," said Dylan C. 
Students were very excited to observe the event. Many of them were unexpectedly rooting for the teachers, instead of their peers, giving the teachers a bit of a home field advantage. 
"I just love seeing everybody out together, it's great to see actual faces and everyone just seems so happy. It's just an energetic atmosphere. It's wonderful," said Mrs. Miller.
Teachers were excited to participate in the first school event in over a year and a half. In the past months, Day Creek Coyotes have lost the Halloween Bash, Color Rally, field trips to Chaffey High School's yearly theater performances, 6th grade science camp, Day Creek's Beauty and the Beast performance, all Renaissance breakfasts and award events, all end-of-the-year activities (John's Incredible Pizza, Skate Express, Knott's Berry Farm) as well as the 8th grade dance and traditional graduation. It would be an understatement to say that teachers and students have missed out on a lot of memory-making opportunities. All this energy and enthusiasm came out during a simple game of kickball.  
"I think my favorite thing would definitely be how excited and involved everybody gets to be in a fun student activity where they can take a break from reality for a little while," said the Vice Principal Mrs. Vander-laan.
Students and teachers both needed a break from the classroom, especially after a year like 2020-2021.
"It's critical for students to have school spirit, and you can't have that when you're not on campus. To have pride in your school is something we've always had at Day Creek, and since Covid it's been really lacking," said Mrs. Merry.  
Though each of the three games ended with a teacher victory, it really didn't matter. Students were able to show some school pride and simply have fun. Day Creek students and staff can't wait to have another school-wide activity just like this one.