Seattle School "Cancels Halloween," Should We Do the Same?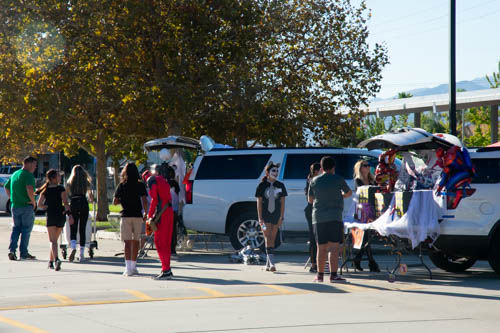 The fang-tastic Halloween holiday that everyone loves and enjoys is right around the corner. Mummies, zombies, witches, and more all come to life on October 31st. 
For many students across the country, this holiday is an exciting celebration where students have the opportunity to dress up in school to show off their creativity, and if they're lucky, receive candy. Yet this isn't the reality for the students at Hillcrest Elementary School. But is it the right choice?
After five years of discussion among those on their Racial Equity Team, Hillcrest Elementary School made the decision to cancel its Halloween Parade to respect those who feel marginalized by not celebrating Halloween. 
"As part of our school and district-wide commitment to equity, we are focused on building community and creating inclusive, welcoming environments for all," Garvey district officials said. "While we recognize that Halloween is a fun tradition for many, it is not a holiday that is celebrated by everyone for various reasons, and we want to honor that."
According to the district, the annual Pumpkin Parade marginalized minorities, specifically African-American males, and for this reason, some participants requested to be isolated when the event took place. 
The district's statement expresses "unwavering commitment to students of color" to those they once sent to the library as a 'safe space.' However, this solution excluded kids, conflicting with their school's beliefs about true community. Though they were dedicated to the annual event, leadership was more concerned about being "committed to supplanting the Pumpkin Parade with more inclusive and educational opportunities during the school day."
Schools consistently work to include as many students as possible, yet celebrating Halloween requires a conversation with those who see things differently. 
According to Garvey School District, "Halloween events create a situation where some students must be excluded for their beliefs, financial status, or life experience. Costume parties often become an uncomfortable event for many children, and they distract students and staff from learning. Large events create changes in schedules with loud noise levels and crowds. Some students experience overstimulation, while others must deal with complex feelings of exclusion. It's uncomfortable and upsetting for kids."
The idea of "canceling" Halloween celebrations brings a varied response among students and staff. With so many opinions, it's challenging to find a solution. Eventually, a decision was made to "move away" from the parade altogether when the number of students who didn't celebrate Halloween grew.
"I thought for sure that it was probably because of religious beliefs. But after reading the article I realized that it has everything to do with financial equity. And that for a lot of students they don't get the chance to do a Halloween costume. I also know that in a lot of areas, as far as elementary school is connected, parents are creating costumes and it becomes a personal competition between parents," said DCIS 7th grade teacher, Ms. Bailey.
Costumes aren't solely about showing school spirit, but also for demonstrating creativity. People don't choose costumes randomly, but for their personal connection or in letting a student 'become' a different person, character, or thing.
However, when this type of fun turns into a personal competition, or the cost becomes extravagant, Halloween has turned into something it wasn't supposed to be. 
"I don't know if it is right or wrong. It's more of a fair or unfair [issue]. I think it was fair if you're considering all the students at the school. We're not saying we're canceling Halloween, we're not doing Halloween at school and I understand that in a lot of ways, it's not taking it away from the students; it's taking it away from the school." said Ms. Bailey.
Halloween has the potential to create conflict due to issues of religion, costumes, and the exclusion of minorities. Perhaps then, celebration should be a personal holiday, not a school one. Halloween doesn't have to be canceled in society, but if it is causing complications on campus, it should at least be "canceled" at school.