Hubie Halloween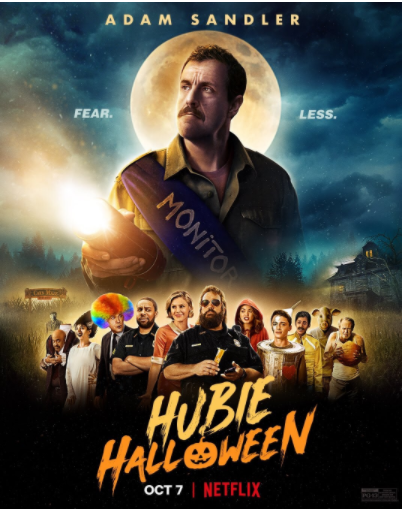 **WARNING!! This article contains spoilers from the film "Hubie Halloween." 
Hubie Halloween is a lighthearted fantasy and mystery Netflix Original that came out this year. The movie earned attention for its cast with family favorites like Adam Sandler, Ray Liotta, and Kenan Thompso as well as well-known kid actors like Noah Schanpp, Karan Brar, Peyton List, and China Anne McLain. 
The story focuses on Hubie Dubois, who is hated by everyone in town. He's made fun of on a daily basis, but doesn't care. His priority is to keep everyone in Salem safe on Halloween. That night, after observing some suspicious behavior from his neighbor, Walter Lambert, Hubie reports it to the police. He ends up chaperoning a high school party, but then Mike Mundi goes missing. Now Hubie, with a very equipped Thermos, has to step into action by protecting and serving Salem as a self-proclaimed, "trained volunteer," even if he gets scared at every turn.
To look for clues, Hubie goes into a drive-in movie theater. When Lester and Louise Henneessey, a couple from Hubie's old high school,  prank him. As they drive away, they come across something in the road. They go out to see what it is and think it's just a silly scarecrow, then BAM, they get SNATCHED! After a pep talk with Violet Valentine, the woman he likes, Hubie has a quick chat with her kids after a few of them get lost. He sets out to find more clues in an effort to find the snatcher. Chasing after what he thinks is Walter in dog form, Hubie ends up running through the haunted house when Landolfa, another person from Hubie's old high school, goes missing. About this time, the police catch on to all the disappearance, but since Hubie was with everyone who went missing, the police made the assumption that Hubie was the kidnapper. In a grand escape, Hubie ends up at the Salem radio station. He found out someone had been planning to "show him how much she loved him" on Halloween. Thinking it's Violet, he calls her up trying to confront her to see if she's behind all the abductions. As they're trying to trace the number, they find it was coming from Hubie's house. Naturally, Hubie freaks out and runs home. Greeted by Father Dave hanging upside down, not by choice, Hubie runs into the house to protect his mother. 
His mother was acting strange when he heard something in the backyard. He went out to investigate and saw all the people that had been taken earlier that day. And there his mother was, ready to burn them at the stake. As she prepares to light a match to the gasoline at the hostages' stakes, Hubie throws soup from his thermos stopping the flame. After all this, the people don't even thank Hubie but Hubie's mother tells them they should appreciate him for saving their lives. They admit they made fun of Hubie because of their own insecurities and say how great they think he actually is.  
Additionally, the credits with all of the main cast's names ended with a heartwarming tribute to Cameron Boyce. "In loving memory of Cameron Boyce. Gone way too soon and one of the kindest, coolest, funniest, and most talented kids we knew. You live on forever in our hearts and are truly missed every day." Just two days before Cameron passed away from a seizure in 2019, he was casted as the Deli worker in Hubie Halloween. His good friend and former co-worker, Karan Brar, took his place in the movie.  
Overall, Hubie Halloween is an exceptional movie that combines suspense, hilarious moments, and a major plot twist all into one. If you're ever in need of a good movie to laugh about with family and friends, Hubie Halloween is definitely your way to go.