Among Us: A Swift Uprise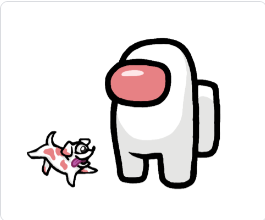 Among Us has definitely lived up to its name, resurfacing as a huge hit among the younger gaming crowd as well as inexperienced/non-gamers. This game introduces betrayal, creativity and perhaps even bad behavior.
In this game participants can be crewmates or imposters. There can be multiple imposters or just one. Imposters have the ability to wander through vents, kill crewmates and stealthily sabotage different mechanics of the game. Crewmates have assigned tasks to them to keep them busy while imposters try to kill others. 
Anyone can report a dead body. Only one person can be ejected or voted out at one time. If a crewmate gets ejected, the game keeps going. When an imposter is voted out or leaves the game, the victory belongs to the crewmates. However, if an imposter kills all of the crewmates, the imposter wins.
"Being an imposter is extremely hard. I'll be looking for people to slay and I won't see anyone following me. But, as soon as I slaughter this player, every live crewmate just appears out of nowhere," said Hayley. This game includes challenges to keep the player occupied. This resulted in the quick rising status of this game.
"I play Among Us for a good amount of time, maybe three hours max, depending on how much free time I have," said seventh grader, Hayley B., demonstrating the addictive nature of the game. Members of The Howl believe that this game could result in addiction
When playing Among Us, participants can choose a name. Few players use actual names, since players rarely play with people they know. This leads to countless humorous names appearing in games. 
"My character name is very cheesy, actually, because I have a flower crown, and I am named Daisy," said Hayley. Giving players freedom in creating their own names, not only leads to many laughs, but also unlocks the doors of player creativity.
On the other hand, this game could involve questionable behavior. From the excessive amount of playing the role of imposter and feigning innocence, kids are encouraged to deceive. This is a negative trait when parents ask about chores or teachers inquire about unfinished homework.
In today's society, games like Among Us influence a younger crowd in good and bad ways. This game may be a little violent, but it also is an escape from the realities of school and homework.  But at least we can all sleep soundly knowing how to sabotage O2.