NFL Madness: COVID-19 Edition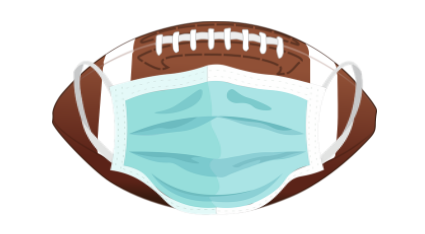 Sports have always been a way to bring people together. One example of this cultural cohesiveness is obvious: the Super Bowl, where family and friends gather for an unofficial American holiday, regardless of their knowledge of nuances of the game. Every generation has its favored teams, sparking conversation and building friendships through games broadcasted across our nation. 
When the coronavirus forced countless teams to halt practices and games, scores of fans were devastated. Yet less than a month ago, the National Football League began their 2020 season. Players and coaches are required to follow the necessary precautions and procedures to continue practices and games. And fans were overjoyed to see their beloved football teams back on their TVs. 
In order to keep participants safe and healthy, the NFL has instituted multiple safety protocols. Everyone must wear a mask while traveling and using team facilities. Each team is allotted 110 people total within their traveling party, including no more than 70 staff members. These precautions are taken to prevent the spread of the coronavirus, but what happens if someone becomes sick?
If a player tests positive for COVID-19, he is required to self-quarantine from any team personnel and facilities. That player is also placed on the Reserve/COVID-19 List, preventing him from playing in any upcoming games until he is free of the virus. 
According to Sporting News, anyone in the NFL who has contracted COVID-19 or been exposed "must follow the following return protocols: A second negative test within 24 hours of the initial negative test, increased symptom monitoring, eight days of daily virus testing, and a regular testing schedule thereafter."
When an NFL player, coach, or staff member shows symptoms of the coronavirus, they must take all of the above precautions. They are permitted to return to practices or games once 10 days have passed since initial symptoms appeared and 72 hours have passed since symptoms concluded. 
However, if they are asymptomatic, free of any symptoms of COVID-19, they are allowed to return to the field when, "10 days have passed since the initial positive test, or five days have passed since the initial positive test and the player receives two consecutive negative PCR virus tests (molecular tests, conducted by a nasal or throat swab) at least 24 hours apart within that five-day period," said NFL Operations.
"Our job simply isn't done. It's to remain vigilant," said DeMaurice Smith, NFL Players Association executive director, in an interview with CNN. "But I'm happy with what's been done, I'm happy with the protocols that have been put in place, and we'll find out exactly what happened."
 The NFL has placed different regulations on the table for a myriad of scenarios that could take place during this football season in an effort to ensure safety for all. But mask requirements, limited groups, and isolation don't always assure the desired outcome. 
As of October 7th, eleven Tennessee Titans players contracted coronavirus. To prevent the virus from spreading, the NFL postponed the Steelers vs. Titans game until October 25th. 
"We've asked our players to not gather, whether that's a league protocol, or us asking them so that we can just avoid close contacts and that we can try to work through this and get back into the building to prepare for Buffalo as quickly as possible," said Mike Vrabel, Tennessee Titans head football coach, in an interview with ESPN.
Multiple players from the New England Patriots, Atlanta Falcons, Kansas City Chiefs, and the Las Vegas Raiders have also been diagnosed with the virus, proving that NFL protocols aren't infallible.
Though the NFL can't control what each individual player does, they are using their authority to properly enforce their rules. For example, ten Raiders players, including quarterback Derek Carr, were seen without masks at an indoor charity event hosted by Raiders tight end Darren Waller. The offending players were fined a collective $165,000 by the NFL. 
"We should have kept the masks on, even if we are coming in and they're introducing us," Carr said in an interview with USA Today. "I was just there trying to support Waller. That's what me and the guys were trying to do," 
Moreover, Raiders head coach, Jon Gruden, and Saints head coach, Sean Payton, were each fined $250,000 for not securely wearing masks during the game. 
"It's okay if you're pulling it (the mask) down when you're calling plays, but what happens is I get caught up in the game and half the time forget that it's down, so I've just gotta be more diligent with it," Payton said in an interview with NOLA.
When the NFL decided to start their season during a pandemic, they may have not truly realized the impact of COVID-19 on their teams. In the span of four weeks, a significant number of players and team personnel have contracted the virus. The NFL can't postpone games forever, despite their efforts to meet guidelines this season. The coronavirus ultimately decides what the NFL does, not the other way around. 
"We need Football! We need sports! We need hope! If the NFL doesn't do their part to keep players healthy there is no football in 2020. It's that simple. Get it done @NFL," said New Orleans Saints quarterback, Drew Brees.