SOTM for September: Teamwork
Imagine teaching in the middle of COVID, a time when it is harder than ever for students and teachers to communicate. The Student of the Month award for September presents a difficult decision for teachers to make. This month's character trait is teamwork. But how will teachers choose a student if students hardly interact? 
Class sessions offer little opportunity to talk. Breakout rooms may even be the only slice of a student's school-based social life. Teachers had a hard enough time choosing a SOTM while on campus; imagine finding someone exhibiting exemplary teamwork when most are required to be muted during class. 
"I tried to use what I've learned about kids so far, and I knew of a few kids that played on sports [teams]. Besides noticing that someone is on a team, I like to look at somebody who is struggling and may need a pick-me-up. I picked someone that is on a team and someone who needs a positive," said seventh grade teacher, Mrs. Gannon-Jacobsen.
Other teachers picked their Student of the Month differently. Some based it off of information they'd acquired from grading or in communication with a student's previous teachers, while others based it on student character.
"I think SOTM is super important. I like that it has to do with being a team member, being charitable, and being responsible because all of those things are what make us a good citizen in our community. We only have ten months and thirty students in our classroom so hopefully teachers take it seriously and give it to students who deserve it. Sometimes students struggle academically but they are a really good person, so they deserve the character trait," said Mrs. Routh, seventh grade teacher at DCIS. 
Most teachers appreciate the Student of the Month award because it spotlights character and rewards kids for their hard work, particularly in light of today's circumstances.
"We haven't had a chance to meet people in person, so that is the biggest challenge. Unlike last year when we closed the schools in March, I had a good six months to get to know all of my students. It is the complete opposite of hybrid where I can see how you work and interact. They're are fewer opportunities to see you (students) all shine," said Mrs. Routh
About the Writer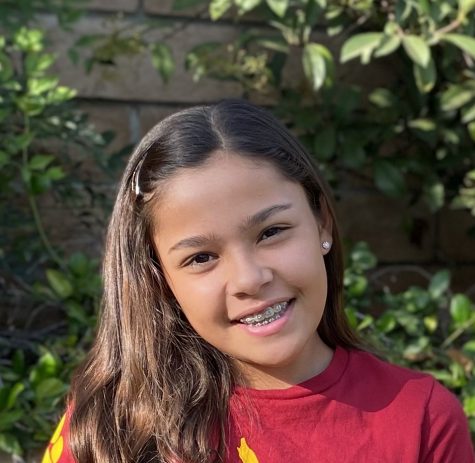 Nicole D., Writer
Nicole D. is a writer for the Day Creek Howl. She enjoys playing softball, hanging out with her friends and family, writing, cooking, and baking. She works...