Halloween Bash 2019
Day Creek's Halloween Bash took place on October 25, 2019. It was a fun, yet scary event for those who attended. The afternoon offered multiple opportunities for kids to keep themselves busy. Many students were frightened by the maze, while others enjoyed carnival games and candy. Scooby-Doo played in the MPR and kids feasted on pizza and hung out with their friends. 
"My favorite part of the event was the carnival games because you would always win candy at the end," said 6th grader Monique G.
Mr. Brubaker and a team of teachers and volunteers created the maze that aimed to rattle students. Those who entered for the first time never imagined that something on campus could be so scary. Most students enjoyed the rush of adrenaline.  
"I thought the maze would be simple, nothing scary. I was shocked because I didn't think schools would have something this scary. Everyone was so scary. I even thought that they were going to touch me. I thought that it was a little too scary for me," said Monique G.
Carnival games were also included in the event. It provided a way for students to earn candy before Halloween night.
"The carnival games were super fun because there was so much to do," said 7th grader Elise C.
The movie and pizza were a favorite part of the event for some students, providing a way to cool down and relax on a surprisingly hot October afternoon. 
"The movie and food were both really great because I got to relax with my friends, and I really liked the pizza," said Elise. 
The Halloween Bash seemed like a memorable event for participating students and staff, definitely something to remember. 
"The Halloween Bash was really fun and entertaining. It was a really well-organized event. On a scale of 1 to 10 it was a 10," said 7th grader Samarah L.
About the Contributor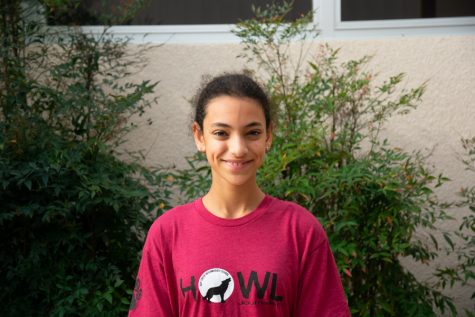 Mireille G., Writer
Mireille is excited to be working with the 2019-2020 Day Creek Howl staff. She enjoys spending time with her family, laughing, singing, horseback riding,...