Impeaching the President?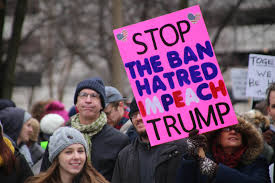 On November 8th, 2016, Donald John Trump was elected president of the United States of America. But now, the Democrats are trying to impeach the president and they are not backing down. 
Many people want Trump out of office. A poll took place and surveyed 1,003 people between October 6 and October 8th. Many of the voters, "(51 percent) support Trump's impeachment and removal from office." stated VOX. In July it was a lot fewer. Only, "42 percent of respondents supported moving Trump." stated the VOX. 
But why do people want to impeach the president? The survey indicates that Trump was trying to persuade the Ukrainian government information about the Bidens. Trump was trying to get information about Joe Biden and his son's business about dealing with Ukraine and China. He supposedly was going to use that against them in the upcoming presidential election, but that is just an accusation. Nineteen percent of the voters were bothered by this allegation Trump made about the Bidens.  Thirty-eight percent of the poll respondents are really troubled by, "the situation surrounding President Trump's dealing's with the Ukranian president." stated the VOX. Forty-three percent of the voters say it's an "impeachable offense" stated the VOX. But, twenty-seven percent believe it was "inappropriate, but not impeachable." Lastly, seventeen percent believe it is "appropriate."
According to the VOX, "Fox News indicates that respondents actually think the impeachment inquiry into Trump is fairer then the one President Bill Clinton faced."