Tennis is a Real Sport
Hang on for a minute...we're trying to find some more stories you might like.
Most people hear "real sports," and automatically assume we're talking about soccer, baseball, basketball, football, and hockey. Why isn't tennis on this list? As an athlete who lives on the court, I can easily argue that tennis should be included.
"You haven't really achieved anything; tennis is just swinging a racquet, and it's not even a real sport."
When people ask me about my achievements, that's the typical response. It's frustrating because tennis is the only thing I'm honestly good at. So when I hear those kinds of remarks, it almost makes me feel like I'm not good at anything.
In expressing that frustration, people don't understand. Anyone who plays soccer would be mad if someone told them that all "you do is kick a ball." It's no different for tennis players.
It's actually kind of funny, almost every negative remark I've gotten about tennis generally comes from soccer players.  That's not to say that everyone who plays soccer shares the same opinion. However, in fifth grade, my friend who played soccer told me that anyone can play tennis, "because it's just easy."  But when I turned it around: "Is soccer just kicking a ball?" he was furious.
In a way, it all goes back to what some of us heard as kids, "What you give is what you get."
In order to play tennis, physical strength (arm, leg, core) and mental toughness are crucial. It isn't as easy to play tennis as tennis players make it look like. That's because it's our job to make it look easy. That's why we train. I'm on the court at least two hours each day whether it's for conditioning or just hitting five baskets of balls. Players who compete know how much dedication is required for success.
To say that tennis is difficult, is a huge understatement.  Most sports are played in teams. In general, tennis isn't. I don't have a team to cheer me on or carry me through when I'm playing poorly. I also don't have anyone to blame when I lose. When I'm out on the court, it's just me and my opponent. When I miss a shot, there's no one to offer comfort. And when I'm winning there's no one to tell me you've got this. If I'm playing a tournament and it's just not my day, then I either figure things out or I lose.  
Moreover, scoring in tennis is really complex. In a tournament, the format is generally best of three sets, one set is six games, one game is at least four points, but there is no telling how many points will be played.  If the sets are split, meaning that each player has one set, it goes to a third-set tiebreaker. In some tournaments, it's a full third set. Tiebreakers are first to ten points, with a win coming by two. Do you feel the confusion? Scoring is taken very seriously. 
It is extremely important to keep score when playing tennis. When I'm on the court, I play with an extreme focus. When I play a twenty-ball rally, I don't always remember the score. That's when things get messy. Similar to other sports, there are plenty of cheaters.  I don't have a referee on the court to confirm every point. It's on me to play my best for every point while always remembering the score.
People are mistaken to think that tennis is simply standing in one spot while lazily swinging a racquet.  They have no clue how much technique, footwork and strength goes into our sport. Tennis players who compete in tournaments work extremely hard just to have people tell us that tennis isn't really a sport. You may want to duck as I hit a ball at your head.
About the Contributors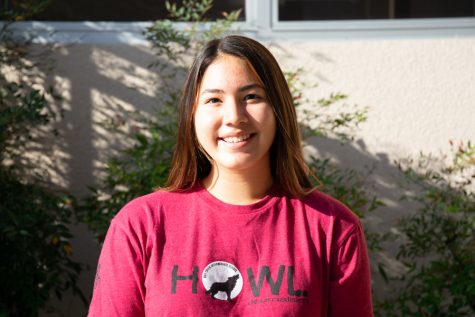 Kaylee L., Writer
Kaylee is a dedicated tennis player and journalism staff member. In her free time, she enjoys playing tennis and swimming. Kaylee has achieved a USTA (United...