Famous Dave's BBQ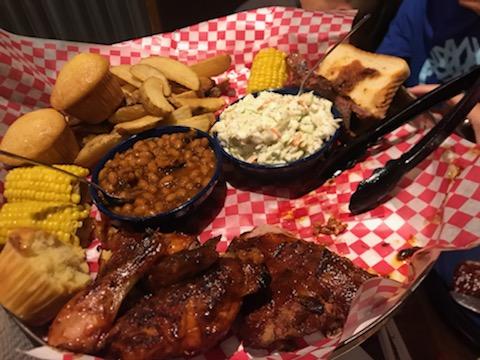 Hey meat lovers!  Looking for a meaty restaurant? Well, why don't you come on down to Famous Dave's BBQ! Sorry Vegetarians and vegans you'll have to miss this article. 
Famous Dave's was founded by David W. Anderson in 1994. He was a man who loved BBQ his whole life and wanted to share his love of BBQ with his customers. As a result, he opened his first restaurant in Hayward, Wisconsin in 1994. He wanted the restaurant to feel like you're barbequing in your backyard. Dave went to every Barbeque restaurant he knew and tasted every single one of their sauces to find the perfect sauce and taste for his meats.
The first impression of the restaurant was the barn-like theme. All the areas of the restaurant felt happy and cheerful. It wasn't very crowded on a Thursday night, so we got a seat in a booth. I was already loving this place.
While we were looking at our menus, we saw a large variety of meats that weren't too expensive. So we just ordered a "Feast for 2" which had brisket, ribs, chili, corn on the cob, potato wedges, kelp salad, and lastly, cornbread. After we ordered, the waitress gave us drinks and Cajun chips. The wait wasn't very long; it took about 20 mins, which is pretty fast compared to the other BBQ restaurants.
The "Feast for 2" was very unique since it had a trash can lid as a giant plate, and when they served it, they yelled "FEAST!" repeatedly until they got to our table. The "Feast for 2" had so many options; I had to try every single piece of it. First, I tried the brisket and because it was so tenderized and soft, it dissolved in my mouth when I took a bite out of it.  Next, I tried the ribs, which was pretty good since it had BBQ sauce but was too dry. It was too chewy, so it took a little too long for me to swallow. 
Next, I tried the Corn on the Cob which was unnaturally juicy. When I bit into the corn, juice squirt out of my mouth. Another delicious food was the Potato Wedges which was crunchy, but soft on the inside. If you're more like a vegan type, then you'll want to try the Kelp Salad or Corn Bread. The "Feast For 2" was a great addition to their menu for people who can't decide what to eat. 
All in all, the restaurant is affordable, quality service and of course delicious. I wouldn't mind listening to their music since it made me dance and have fun. 
I recommend you to come to Dave's BBQ (11470 Fourth St, Rancho Cucamonga, CA 91730) and check it out. I might even see you there someday.
About the Contributor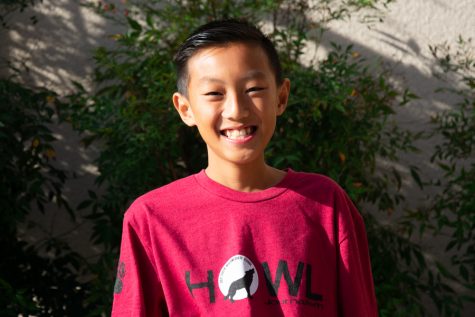 Conner L., Writer
Conner is a curious and easygoing person. He wants to become a professional soccer player when he grows older. His favorite soccer team is FC Barcelona....