Beckham To The Browns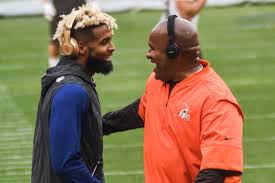 On Monday, March 12, Odell Beckham Jr. was traded to the Cleveland Browns. In return, the New York Giants got a 1st round pick, 3rd round pick, and safety Jabrill Peppers.
Odell has been a top receiver in the league ever since he was drafted in 2014. He is a three time Pro-Bowler, he won Offensive Rookie of the Year, he became the fastest receiver to reach 5,000 yards in the NFL merger in 1970, and made arguably the greatest catch in NFL history on Sunday Night Football. However, he missed pretty much all of the 2017 season, and then was out four games in the 2018 season.
With an already promising offense that is led by rising star Baker Mayfield, we can only imagine what it would be like for him to have another great weapon like Odell. Despite all the hype for the Browns, this leaves questions for the Giants. Do they have anyone that can replace Odell as the number one receiver? Will Eli (if he is still the starter) have any weapons besides running back sensation Saquon Barkley? What will they do with the picks and player they got from the trade? Will they make any other significant moves this offseason?
About the Contributor
Dylan R., Writer
Dylan is very serious about his education. One of his hobbies is football.  His favorite team is the Patriots and he hopes to become the best tight end...