Cluck-N-Pollo
Classic Taco Bell and Del Taco are cultural cousins, often built within a mile or so of each other. But both are fast food chains. So where would homemade Mexican food that's served quickly enough to be fast food, but cooked well enough to be Abuelita's appetizing meal, fit into our community? That's the description of Cluck-N-Pollo.
Cluck-N-Pollo's first and only appearance, for now, is located in the Day Creek Marketplace. The owner, Celia Mercado and her family decided to open it because they thought, "(Hey, let's) open a store!" And from there things progressed into their new restaurant.
Upon hearing of the restaurant, I thought that their food was fried chicken, KFC style, but with a twist, because of their name Cluck-N-Pollo. But to my surprise, it turned out to be rotisserie chicken. Mercado says, "Not too many people know how to cook the way we cook it. Everything here is made from scratch."
Since the restaurant is quite small, there isn't much room for decoration. But, they do have a nice faux brick wall with a cool logo and their catchphrase: "Not just good, it's Cluck'n good." The decor brings nice modern, rustic feel. Their music adds to it with 80's rock style, which creates a lively and inviting atmosphere.
Cluck-N-Pollo's menu is nothing like your local Taco Bell. They have multiple options ranging from chicken combos to burritos and salads. I chose the chicken flautas, as well as a bean and cheese burrito. To wash it all down, I added a Mexican bottle of Coke and a horchata.
Chicken flautas are similar to taquitos but are made with flour tortillas that are rolled up around a filling, then deep fried. These flautas were filled with seasoned chicken, topped with lettuce, cheese, avocado sauce, and tomato. Everything tasted amazing and contrasted well with the other items. The chicken had an unfamiliar taste, but didn't overpower nor lack flavor. It was just right for my taste buds!
You can never go wrong with a classic bean and cheese burrito. The burrito had pinto beans, Mexican blended cheese and a tortilla to wrap it all up like "beans in a blanket"! Although everything else in the restaurant looked and may have tasted very authentic, this burrito tasted exactly like Taco Bell's. Perhaps the beans were more textured and a little overwhelming compared to the other ingredients. So maybe you can go a tad bit wrong with a bean and cheese burrito? At least it wasn't soggy!
Lastly were the drinks. The Mexican bottle of coke most likely came from Mexico because of the description on the bottle. It was made with 100% sugar cane. This was a win/win because it is healthier than regular Coke, but it doesn't taste any different. Maybe even better!
I personally am not a fan of horchata, though the community might think otherwise. It is an authentic Mexican drink so I had to try it. I didn't love it, but it tasted better than I thought it would. It had an "okay" cinnamon-like taste to it and that really was all that was tasted. Then again, that was the main ingredient besides the base of milk, rice, and water.
The restaurant did meet my expectations for Mexican food, though it's definitely not like a KFC. Instead, the restaurant is authentic, serving standard Mexican food from scratch. The flautas had great texture and tasty ingredients that worked well together. The bean and cheese burrito was okay, though it was a bit heavy on the beans. The bottle of coke was very refreshing. The horchata on the other hand probably tastes amazing to most, but wasn't my cup of tea. Abuelita would definitely give Cluck-N-Pollo a visit!
About the Contributor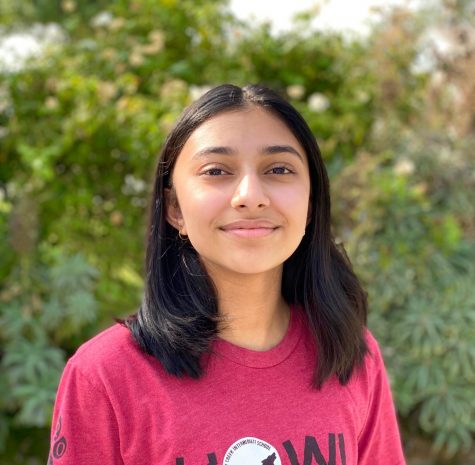 Sana M., Editor Emeritus
Sana is a freshman at Los Osos High School trying to learn her way through high school while beginning it online. She loves to write, dance, and paint...