Peter Pan Jr. 2019 Review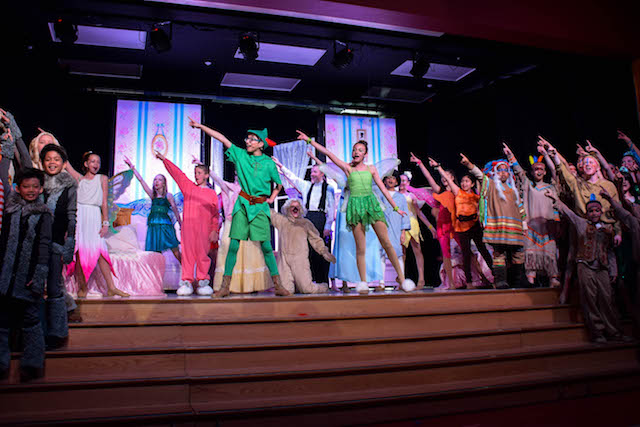 On February 28, 2019, fifth graders from Golden, Caryn and Lightfoot Elementary visited our campus to watch Day Creek's annual play production.
Every year, Day Creek's students have the opportunity to try out for the play which is led by Mrs. McReynolds. This year, students performed Peter Pan Jr. for 6th-8th graders on campus.
Along with Day Creek's students, fifth-graders from nearby schools got to take a break from their classwork for a couple of hours to enjoy the musical.
Mrs. McReynolds explained that the play is a great way for the soon-to-be sixth graders to get a feel for their upcoming campus in a positive and fun manner.
Indeed, students definitely got to see the school in a beneficial way as a current crop of Coyotes actors acted, sang, and danced across the stage.
"I loved (the play). It was very amusing," said Hannah G.
The play captured the attention of many students, but it was the characters who stole the show.
"Peter Pan (is my favorite) because he's helping Wendy with staying young, so she won't go and grow up," commented Edhen A.       
"(The play was) good. (My favorite part is) when Wendy tells stories (about Peter Pan)," said Dayjanae R.
Students were excited by the humorous songs and actors and were inspired to try out for the play when their opportunity arises in next year.
"Yes, (I would try out for the play). Theater has just been something that really excites me since second grade," said Hannah G.
"(I would try out for the play because) I like acting. (I would want to be) Captain Hook," commented Joaquin A.
All in all, it was a magical experience for everyone, and we can't wait for next year's musical!