A Powerful Thing Called Singing
Hang on for a minute...we're trying to find some more stories you might like.
With the recent Peter Pan Jr. auditions happening here at DCIS, many Coyotes have shown off their abilities on stage. Not only their acting skills but their singing ability. And it's not as simple as it sounds.
Your voice is actually a muscle! According to Mentalfloss, our voices are "basically a reeded instrument." "Speaking and singing depend on the larynx (voice-box) in your neck. In order to produce sound, adductor muscles provide resistance to the air you exhale." Ever tried playing a musical instrument? If you have, you know the difficulties that come with it. Now try doing that in front of a big crowd, basically getting graded for your singing. Now that's scary. But as always, hard work does pay off!
Singing has also been shown to improve mental health. The activity is known to produce endorphins, which is basically the chemical in your brain that is a "feel-good brain chemical that makes you feel uplifted and happy." It not only lifts your mood in the moment, but it helps singers improve their mental health in general. It helps make people happier and boosts their confidence.
"I do sing at home and I know that when I do it I feel like really like calm with myself and it's really relaxing." Said Raegan Powers, a seventh grader.
When singers are on stage singing their hearts out, it must be terrifying. Imagine being in front of a huge crowd and performing with your voice. Raw, with no autotune or anything. Yikes, now that's a nightmare.
"[I feel] very nervous because like . . . since I'm hitting puberty you never know when your voice is really gonna crack, so it's just really scary because like one time I was singing and my voice cracked and luckily I wasn't heard but it sucked." Said Konner VanAbel
But with a little self improvement and experience, I bet the praises from strangers, friends and family will grow. And of course, people love compliments, which helps with confidence and self worth. It may even help you get your emotions and thoughts out!
"Yes, I feel like I can get emotions out in just a few words," said Lauren W., a seventh grader here at Day Creek. "I feel like my confidence has grown a little bit.
I've had a few of my own experiences with singing. From singing on a stage to singing in a shower, it has always helped lift my spirits, as if a pain in my chest was lifted as I let the music take control. It definitely boosts my self confidence and self worth. When I sing I don't care about anything but the music. I feel like I'm in the clouds! And it's all from a powerful thing called singing.  

About the Writer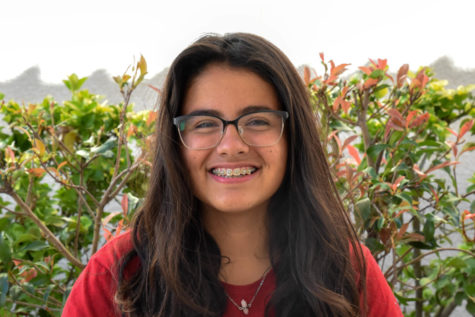 Roxy R., Writer
Roxy is part of the 7th grade Journalism staff. She enjoys playing softball, drawing, and enjoying time with her friends.  Music is a big part of her...