Halloween Bash 2018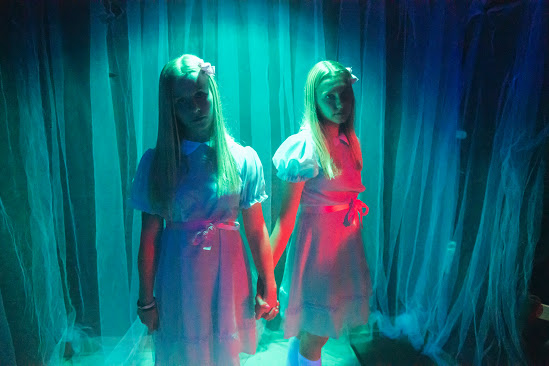 Hang on for a minute...we're trying to find some more stories you might like.
On Friday, October 26, Day Creek's annual Halloween Bash took place. Kids buzzed with excitement throughout the day, waiting for the harmonious sound of the dismissal bell.
Right after school, students rushed to their locker rooms to change into their costumes.
While 6th graders enjoyed the haunted maze, 7th graders wolfed down pizza in the MPR, and 8th graders participated in fun activities such as the bean bag toss. The students that attended rotated activities and for the most part enjoyed themselves.
Nearly all of the students had dressed up; their costumes ranged from group costumes like M&M's and social media apps, to blown up pineapples and dinosaurs. Cristian, a 7th grader,  dressed as Josh Dun from the band Twenty One Pilots. "He's from one of my favorite bands," said Cristian.
As usual, 8th grade leadership and DCIS staff created the haunted maze. Stretching from the beginning of the fitness lab to the connecting room that marked the end of it, the haunted maze seemed to go on forever. Throughout the maze, terrors and jump scares lay at every turn. "There was a light, and there was a person wearing blood all over her face and just talking about how if you go through [the maze] you'll die." said 7th grader Annabella. "I was terrified."
Another favorite of the Bash was the games. "I liked the wheel one where you spin the wheel and you get candy." said 7th grader Giselle. Every game gave away candy as is the tradition of the sugary holiday of Halloween.
When students weren't running around with arms full of candy or screaming out of the haunted maze, they sat in the MPR where pizza and water was served. Students were able to enjoy pizza and chat while watching a movie.
All in all, everyone had a great time. So if you want a fun day filled with screams, candy, pizza, and more candy, make sure to go to next year's Halloween Bash. You're sure to have a blast!