Doubt
Hang on for a minute...we're trying to find some more stories you might like.
As I stepped up to plate, all eyes were on me and the crowd grew louder. The tension was thick. My knees started to shake and my palms became sweaty. The game was tied 8 to 8, adding even more pressure on me, as this was the championship game. Anxiety and doubt were all I felt, and my body shook with adrenaline. I didn't feel the joyful rush that I usually felt when I played. There was no joy, even with the quick reminder from my coaches to have fun and relax. I couldn't stop the shaking or ignore nausea in my stomach. I teared up, looked down at my dirty cleats, wanting to disappear under my covers in the tranquility of my home.
The pitcher from the rival team took a step forward and rotated her arm. The ball traveled to the ground quickly, most likely from the tension she was feeling. Ball one. The pitcher stepped up again and regained her position. I, however, was slowly falling into a black hole of doubt. She released the ball. "Strike!" My world crashed down. The little amount of hope I had, left as quickly as it had come.
The air was filled with my team's voices as they screamed encouraging words and cheers, but I couldn't hear anything. There was only pure silence in my ears and head. It was just the pitcher and me. I tightened my grip on the bat and tried to regain my composure. The pitcher released the ball. It fell to the ground pitifully. I could see the pitcher's face drop. This is my chance. I could hear my coach's voice in my head: When she is at her weakest, you gotta use it to your advantage.
I stepped out of the batter's box and retighten my batting gloves. My coach made eye contact with me and gave a nod, his way of saying, You got this kid. I know it.
I stepped into the batter's box again, my knees got weaker and weaker. I looked at the pitcher and returned to my regular stance. The pitcher looked at her catcher for the pitch. After receiving it, she got into her own stance.
My heart was racing and I couldn't control my anxiety. I felt like I was underwater, sinking down and down until I hit the ocean floor. I prayed to whatever higher power there is in this world and suddenly, like a miracle, something formed in me. That little bit of hope that was there before returned. I straightened my legs, gripping my bat as tight as I possibly could.
The pitcher gave what seemed like her best pitch and…SMACK!  I hit that ball to center field, just perfectly, where no one could catch it. Screams and yells to RUN! erupted from the crowd and the dugout.
I dropped my bat without a care in the world and ran. I was breathless before my right foot dug into the dirt. As I rounded the corner toward second base, I turned my head to meet my coach's fierce gaze. I heard his yells to get down and slide. Without hesitation, I was on the ground with my foot on the base. I looked up to see the rival second baseman with the ball in her glove. Fortunately, the girl dropped the ball after her teammate threw it to her. I was safe at second with none of my fellow teammates on base. I quickly gazed at my coach who returned the look with a small smile that gave me a feeling of relief. I felt so calm and relieved on second base. I haven't felt that way in a long time on a softball field.
Softball is a big part of my life. I've been playing for four years. Each year, I've learned how to grow and become a better ball player. Heck, I'm on a travel ball team right now. (It's like being in club for soccer.) Yet, softball hasn't always been rainbows and unicorns. It wasn't always easy, because mentally and physically, I struggled. I still do now, but I'm getting better. I'm getting better at being proud of myself, not critiquing every mistake I make. In my first season, I was carefree. I was what my dad calls "being loose". I just had fun. Now softball feels more like a job, not a hobby. Don't get me wrong, I can see softball in my future. But I just want to feel the same feeling I did when I was a rookie.
I first started to feel this way when I started playing on a travel ball team. When I was in wreck ball, (which is just normal softball and you don't travel to other cities to play) I was so excited for every game. I wouldn't miss a practice or a game for the world. Yet now, I dread playing in tournaments or going to practices. No, it's not from laziness nor a busy schedule.  It's from anxiety and the doubt that forms when I think of softball. I know that I can be a great player. I've been complimented and praised for my skills in the sport. Although I still tend to doubt my abilities.
Questions race in my mind every time I think of the sport . . .
Am I good enough?
Am I going to get kicked off the team?
What does my coach think of me?
Doubt is in all aspects of life. I've always been told that I should have fun on the field. That it's just a game. On the other hand, I want to be serious and focused. My main problem is that I don't think that I'm part of the team. That I'm not helping my team get better or win a game. Even if I wear a jersey with the team name 'Khaos' on it, I still have my doubts.
I hope in my future if I still choose to pursue softball, my sentiment towards the sport will change for the better. Not only in softball but in everyday tasks I do. I have doubts with everything I face with. A test, what I'm wearing for the day, or talking to certain people. I know it's a common thing, but it's so powerful. Like a tsunami, crashing down on me and keeping me under the water. But somehow there is always something that saves me from the disastrous waves. Like a lighthouse, shining as a signal of safety to sailors during a dangerous storm.
Everyone goes through the feelings of doubt. It's part of life. And yeah I know, it feels horrible to go through. Why do we feel it? No idea. Maybe it's from people's negative conscience. All I know is that with doubt, in the end, you will get through it. It might not seem like you will, but doubt is in the process of success. And there's no doubt about that!

About the Writer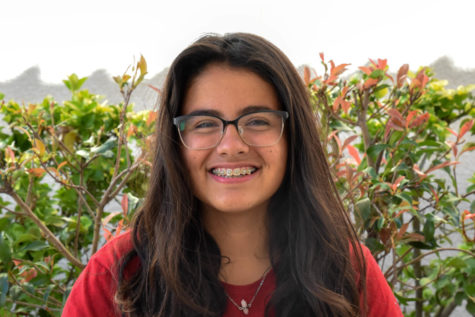 Roxy R., Writer
Roxy is part of the 7th grade Journalism staff. She enjoys playing softball, drawing, and enjoying time with her friends.  Music is a big part of her...