Disabled: Not What You Think
Hang on for a minute...we're trying to find some more stories you might like.
Samantha L. is like any other middle schooler. Except for one thing. Since birth, Samantha has had cerebral palsy.
The technical term for Samantha's condition is triplegic cerebral palsy. This means that it's difficult for both of her legs and her left arm to move. When Samantha was born, her umbilical cord was wrapped around her neck. As a result, she couldn't breathe for a full 7 minutes. Some of the brain cells that controlled the nerves in her legs died. Her legs can function, but it's near impossible for her to walk.
The disability hasn't been easy for Samantha. It has taken a toll, emotionally and mentally.
"Life is pretty hard sometimes. It gets tough to watch the kids play, knowing what I can and can't do. It's an emotional strain sometimes because I get sad. [Watching others dance], I would love to dance but I know I can't. I also moved last summer from Florida. Any move is tough [because] I didn't know anyone and it was a new school. A lot of people with my condition are mentally disabled. I'm not. I am very lucky that I am not mentally affected by my condition," said Samantha.
Samantha doesn't fight the battle alone. She has many people who help her through her difficulties.
"I have a lot of support from my friends, and I'm lucky to have a very supportive family. My mom is a huge help for me. She has been with me through everything. She is amazing and I want to thank her for everything because she is such a strong woman," said Samantha.
As a result of her experience, Samantha aspires to be psychologist when she grows up.
"I don't think my disability will affect me in any way of what I want to do. I struggle with anxiety and depression. I want to help people the way my psychologist has helped me," said Samantha.
All of these obstacles have been challenging to overcome. And in doing so, her condition has taught her several important life lessons that she values.
"I've learned to be compassionate to others. [It's] also taught me to look on the inside and not on the outside. I don't like to judge others by how they look because people judge me by my cover and the scooter. They don't see that I'm a really nice person, they only see the scooter. My depression was really bad a few years ago. But I've gotten treatment and it's taught me that it's okay and to be happier," Samantha said.
Day Creek's environment is significantly better than Samantha's past school where she was treated poorly.
"We want to be treated as equals and be seen as equal. The support is great from all of my friends and everyone in this school. The school that I came from [in Miami] was bad and they treated me horribly. Kids have said such mean things but you have to work through it," said Samantha.
Samantha also would like to change the stigma around her condition. She wants to let people know that she's okay and you can ask her questions about her disability.
"Don't be shy about asking questions. I want to show people that you can be happy even if you're not perfect. I have a very tough life, but I'm still happy and I enjoy it. I hate it when people feel bad for me; I don't need your pity. It's pretty hard but I'm okay with it."

About the Writer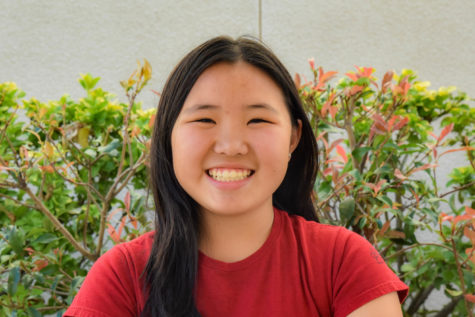 Crystal M., Editor-in-Chief
Crystal is an editor who loves being a part of the 2018-2019 Howl staff. In her spare time, she likes to draw, bake, write, play piano and spend time with...