The Story Of A War Hero
Hang on for a minute...we're trying to find some more stories you might like.
Shots were fired from heavy machine guns at point-blank range. Bullets flew through the air, dangerously close to the heads of British soldiers. With 100 troops on a single boat, one man steered them to safety. He never thought they would get out alive.
World War One was one of the most devastating and catastrophic events in history. 37 million people lost their lives. 100 more deaths would have been added to the count if it weren't for Percy Thompson Dean.
Percy Thompson Dean was my great-great-grandfather. At the age of 40, he was called into the line of duty as a Lieutenant Commander. He was stationed at Zeebrugge, Belgium where the British forces were deployed to block the port of Bruges-Zeebrugge. The Germans used this port as a base for U-boats, deadly submarines that sunk several ships in the British fleet.  
"He was my hero when I was growing up, although I never knew him. He died before I was born. He died in 1939, and I was born in 1940. I always thought that our family was associated with the British Navy. He was someone I always looked up to," said Mark Leese, Dean's grandson.
As the mission started, British ships made their way along the North Sea, hidden by a bank of clouds that accompanied their boats. Suddenly, everything changed. The wind shifted direction and their cover dissipated. The Germans immediately recognized the attack and unleashed the full power of their heavy guns. Two of the three British ships within the blockade managed to get to port, but unfortunately for their forces, one ship was stranded in the middle of the sea. This left hundreds of men who were then fired at from the mile-long mole, (a long wall that extends into a body of water) which led to multiple fatalities.  
Percy Thompson Dean motored to the location of the conflict, where he boarded 100 soldiers on his boat. In an effort to reach the safety of the open ocean, he and the men took a heavy ongoing spray of machine gun fire. To make matters worse, his steering gear cut out. This could have been catastrophic for their retreat, but the boat had a dual engine, which allowed him to maneuver his way through the water to safety. Finally, upon reaching the open ocean, he received news that he had left a man behind. Hearing this, Dean demonstrated incredible heroism – he headed back to the perilous site where so many men had died.
"He grew up with small boats just like I did and that experience was put to effect in order to save the 100 sailors. Since his steering broke down, he could have just laid there under the gun. So he used his early experience of boating in England to his best effect," Leese said.
German soldiers, armed with machine guns, again greeted him with continuous fire. In spite of the threat, he retrieved the stranded man and attempted to retreat to safety. The gunfire, now too intense for him to go any farther, caused Dean to steer his boat towards the mole where the German soldiers were firing. He carefully directed his boat just along that mole. This was the only place safe from German gunfire because they weren't able to direct their machine guns at such a steep angle. Dean led these men to safety. Their lives were spared because he took selfless risks that put his life in unneeded jeopardy.
Percy Dean showed "bravery in the face of extreme danger," said Leese.
Upon returning to Great Britain, Dean was awarded the Victoria Cross for his bravery, heroism and valor, similar to the Medal of Honor in the United States. The hardware was presented to him by King George V on July 31, 1918.
"[The Medal of Honor and the Victoria Cross] are equivalent in that they are both the highest award that can be issued to an individual," said James Spithe from the US Pentagon.
"It's the hundredth anniversary of him winning the Victoria Cross. There's [going to be a] special commemoration [for him] in Blackburn where he was born. They are making a plaque for [Percy Dean]," said Leese.
Percy Thompson Dean acted with outstanding courage, and did not back down while in the moment. He not only saved the lives of 100 men, but he taught a lesson to those who came to know his story. The effects of his actions were recognized by the survivors, their family and his government. His legacy lives on for those who view his award, which can be found today at the Lord Ashcroft Gallery at the Imperial War Museum in England.

About the Writer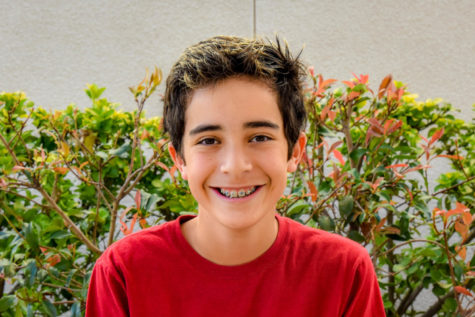 Jonas D., Editor-in-Chief
Jonas is the editor-in-chief for the Day Creek Howl. He enjoys playing baseball, golf and tennis. His hobbies inside of school are playing soccer and hanging...