Star Wars: The Last Jedi Movie Review
Hang on for a minute...we're trying to find some more stories you might like.
Warning: This contains moderated spoilers
If you had the opportunity to watch the amazing Star Wars: The Force Awakens you may have thought that no other movie among the Star Wars prequels and sequels would surpass Awaken's box office success. You might be mistaken as Star Wars: The Last Jedi has taken the world by surprise. Lucasfilm did it again with the amazing action packed scenes and the plot altogether was amazing. Multiple planets and vehicles were displayed in the film, however it must have been hard work for the people that made the movie come to life. Hearing The Last Jedi might make you think this would be the last Star Wars movie ever produced, but I can safely say that it isn't. All of you Star Wars fans out there, you're welcome.
In Lucasfilm's Star Wars: The Last Jedi, the heroes of the previous film return for a mission to save the rebellion from the First Order. Rey, a new rebellion member from the previous movie decides to take on the task of becoming a Jedi and find Luke Skywalker to show her "the ways"of being a Jedi. Kylo Ren, as malicious as ever, comes back as supreme leader, and his purpose is to avenge his grandfather, Darth Vader, also known as Anakin Skywalker, in hopes of finally demolishing the Rebel alliance. Finn, also known as FN-2187, an ex-first order stormtrooper, meets a new friend named Rose Tico, who works as a mechanic on the Rebellion cruiser ship. During the end of the film, the cruiser is destroyed and the rebels must flee on transport pods to the planet Crait, where they think they will be safe. But as Donald Trump says, "Wrong." Kylo Ren locates them on Crait and everyone must flee once again on the famous Millenium Falcon, where Princess Leia assures everyone that the Resistance will indeed rise again.
Star Wars: The Last Jedi, is a PG-13 movie, though there is nothing inappropriate to worry about in the film, aside from a bit of blood and a handful of violent scenes. This should be expected, as there is the word wars in Star Wars. The film scored a 93% on the Rotten Tomatoes website. I highly recommend watching this movie ASAP.  Don't miss it!

About the Writer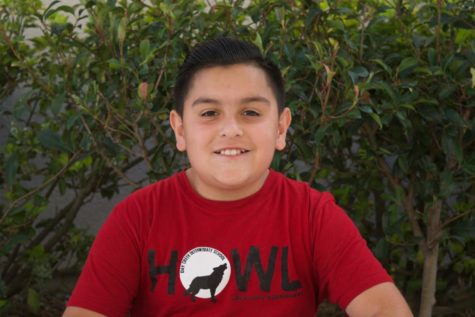 Ceasar C., Writer
Ceasar C. is a seventh grade staff member of the Day Creek Howl. In his free time, he likes to watch movies and play with his dogs. His favorite theme park is Universal Studios, Hollywood. He would love to write reviews for readers that want to learn more about movies and other interesting subjects.