Is Russell Westbrook Hurting His Team?
Hang on for a minute...we're trying to find some more stories you might like.
Russell Westbrook has been a stat monster this season, or as analyst Clark Kellogg says,  "a stat-sheet stuffer supreme." With the departure of longtime running mate Kevin Durant, Westbrook has seemingly carried the Thunder franchise to a sixth seed in the Western Conference. Russell Westbrook has seemingly been doing the impossible every night, averaging a triple-double. But, are Westbrook's insane stat outputs actually hurting the Thunder?
Teammate Steven Adams has admitted that, "We'd rather it be him [getting the rebound]," Stats don't lie and they definitely back up Adam's statement. The Thunder scoop up a little more than one percent of rebounds when Westbrook is on the floor. To put this in simple terms for the basketball novice, Russell Westbrook is gaining rebounds at the expense of his own teammates. Sure, getting a little help from a teammate isn't that bad, but Westbrook's quest of stat padding (and ruining his team) doesn't stop there.
This season, the two frontrunners for MVP are James Harden and none other than Russell Westbrook. Harden has constantly been degraded for his so-called "bad defense." But, most fans miss some advanced stats that make Westbrook look like a scrub, and Harden a defensive god. Don't get me wrong – the beard is not the greatest defender. This season, Russell Westbrook has contested the least amount of field goals in the whole league, leaving players open for easy shots to gain more rebounds. This is one of several embarrassing stats by the superstar. Here are a few more stats that will make any basketball fan cringe. He countess 3.4 of 13.1 field goal attempts, opponents make 74% of shots when uncontested, and opp (opponents points) is boosted by 6.9% (worst in the NBA). In a way, Westbrook is harming his team.
For the record, I am NOT a Westbrook hater. He is a great NBA player and has kept his mediocre team in the playoffs. His season has been historic, as he has averaged a triple double (so far) and has broken Oscar Robinson's triple double record. If he averages the triple double it would be really hard to ignore in MVP voting. But like all achievements, voters should think of it as a lot of skill, a bit of luck, and some help from teammates.

About the Writer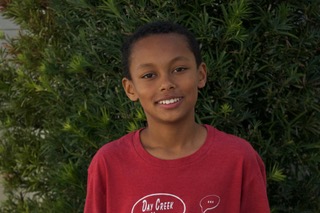 Josh L., Writer
Joshua L. is a 7th grader who goes to DCIS. He enjoys basketball and football. He is the sports writer and enjoys his job. His favorite part of  Journalism is writing sports stories and hopes to be a part of sports (as a sportscaster) his whole life. Post Views: 1,123