How Much Homework Is Appropriate?
Hang on for a minute...we're trying to find some more stories you might like.
At Day Creek, we are renowned for having lots of homework. This is true. Most teachers give their students a boatload of homework. But how much homework is too much?
Well it differs for different subjects. Math and Language Arts should have more homework than less impactful subjects like social studies or science. No offense social studies/science lovers.
Also, different amounts of homework should be assigned for different lessons.
When there is a hard lesson that is difficult to understand, there should be a little more homework than an easy lesson. If we have very little homework on a hard lesson, we probably won't get the lesson as well as if we had more practice. If you have a lot of homework for every lesson, your night will be destroyed trudging through 2+2=4.
Also, there is an issue with grading for homework. Homework is usually only 10% of your overall grade. For so much work, there shouldn't be so little credit.
This can easily be fixed by making homework count more, and classwork less. If homework doesn't count for much, some students don't feel obligated to do their homework. Teachers can easily monitor the classwork students do, but not so much for homework.  If students don't do their homework, their grades will drop more than now.
Teachers usually give lots of homework because they think it gives students more information, or they're just cruel people who want to ruin our lives. But let's be honest, does an hour of additional homework really help? According to LA Times, teachers should give 15 minutes per subject in sixth grade, and 20 minutes for seventh and eighth. What? Since when?
Don't get me wrong, I hate homework. But I have to admit, homework does help for certain lessons. That extra guided practice or Think Question can make the difference between an 80% or 100%, just not too much of it.
There are many factors that play into the right amount of homework. Lots of it will ruin a defenseless kid's night, but too little of it won't help at all.  But a fair amount of homework should relate solely to the material, the subject, (and how mean the teacher is).

About the Writer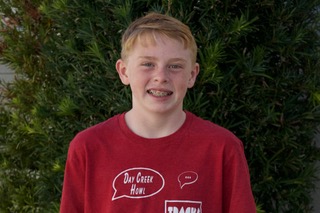 Hayden F., Writer
Hayden is a writer for the 2016/2017 H.O.W.L. He is looking forward to finding interesting stories to share with the DCIS students. When Hayden is not writing for the Howl, he enjoys playing/watching soccer, watching movies, and hanging out with his friends. Hayden also enjoys traveling to different cities, taking care of his Bearded Dragon,...