A Dancer's Journey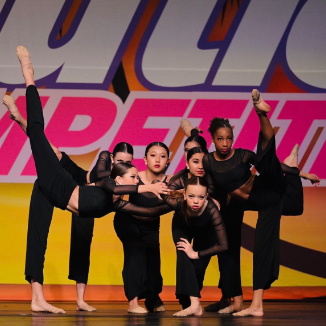 Hours of commitment led to one anxiety-filled moment. Yet it's exactly what they'd trained for. They huddled on stage right. Kelly's dance group held their collective breaths, waiting for the announcement. They would either go home with an overall award or nothing. 
Kelly C., a seventh grader at Day Creek, has been dancing since she was two years old. Currently, she's performing with Move Dance Academy. She's proficient in multiple forms including contemporary, ballet, hip-hop, jazz, and other styles. All of this requires hours of time on the floor each week.
"On Mondays, I'd have one hour practices, but sometimes I'd have three-hour practices on weekends," said Kelly. 
At Revolution, a dance competition among other competitors, Kelly recently placed first in her category and second place overall.
"Second place overall means my age division, which is teens, and in my category means [the people who are dancing] contemporary. I performed to Out of the Woods by Taylor Swift," said Kelly C. 
Like many other dancers, Kelly stopped dancing during quarantine because of the world-wide pandemic. She lost the motivation to dance, and felt that there was no point in continuing with it because her classes were online.
"I quit dance during quarantine because I had to do everything online and my mom thought there was no point in doing it, so overtime I lost the motivation to dance. 
The long hours at dance and the pressure to win has affected Kelly. On practice days. she has to rush her homework to avoid doing it late into the evening.
"[Dance] made me feel really stressed out and rushed. It sometimes [affects the things I do with my friends because] I had this Valentine's Day party planned but I had rehearsal so we had to switch the date," said Kelly.
Although she has long practice hours at dance, Kelly is still able to keep up with her schoolwork. The amount of stress she experienced before the competition was worth it to her in the end.
"I think it paid off. I placed first and second, and I didn't get a lot of critiques from the judges," she said.
But Kelly's dance journey doesn't end here. Winning first place wouldn't have been possible without her passion for dance. As she continues to work hard and stay dedicated, there will be more possible awards in her future.