Color Rally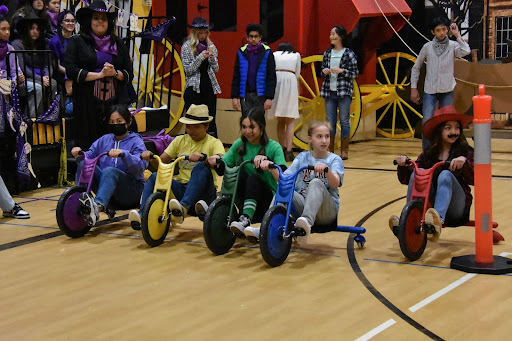 Color Rally for Previous Years
On March 24, the students of Day Creek Intermediate School gathered for the school's traditional Color Rally. This annual event was discontinued by Covid-19, however, this event still continued in an online version. Students can call this year, the return of the full Color Rally experience.
This Year's Color Rally
Every year the DCIS PE teachers, otherwise known as the Fantastic Five, decide on a theme that each of their individual classes would dress up as. This year's theme was "The Wild West" where all students would wear cowboy hats, boots, plaid shirts, etc in their PE teacher's color. The Color Rally takes up 1 hour of the day, where student dancers and singers performed fun games/challenges, and races took place. With the help of Leadership and teachers, the Gym was able to be transformed into whatever theme fits the mood.
"I participated in the Hunger Games challenge and I was a representative for Mrs. Ybarra. Me and my teammate, Kailey M., got second place. I think the Hunger Games was really fun, but it was also kind of hard because there was a lot more competition and people than usual. This was my first color rally and I think it was also the first color rally for everyone else too. I think the color rally was super fun, especially dressing up for your color and the energy of the event. The dancers really stood out to me, they were really good and fun to watch. I think the P.E. teachers and student helpers did an amazing job with the setup and keeping people entertained. I would totally want to participate next year, probably for Hunger Games too," said 7th grader Nick A.
Students were able to sign up for the games and activities and went in pairs. If you weren't interested in participating in the games, you can cheer on your class in the bleachers with fun signs and a good view.
"I was in Mr. Henry's class and I think this was very interesting and exciting. I think all players had done a great job during the games. I liked the scooter races because of how they were transformed into 'small floats' which made it much more entertaining. My favorite parts of the color rally [are] the scooter races and the dancers, the scooters were really funny and the dancers had done a great job performing." said 7th grader Molin W.
Hello and Farewell
This was the first Color Rally for most of the students at Day Creek, however, this was also Mr. Hernandez's first as well. Unfortunately, this Color Rally was the last for P.E. teacher Ms. Rose. She has been teaching in the Etiwanda School District for 31 years and this was her last. Many students will miss Ms. Rose's exciting energy and cheerful smile. Farewell rattlesnake rose! This was also the first and last Color Rally for our 8th graders!