Vaping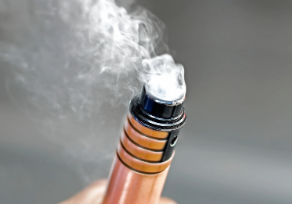 Vaping is everywhere. You can smell it on campus, at Victoria Gardens, and outside of nearly every strip mall in Rancho. According to the FDA, more than 2.5 million U.S. middle and high school students currently use e-cigarettes including 14% of high school students and 3% of middle school students.
"There's a lot of people that vape during school. I know people that [carry] their vapes, and I know people that bring their vapes to school," said Nate G.
Vapes may appear to be more prominent around high-school areas, but they're not absent from middle school campuses. Although some think that vapes are an early 2000's problem, vaping percentages are rising again due to recent online popularity.
"[Social media is] influencing vapes especially with that new prime vape," said Isai B-V.
Whether students have been offered one from a friend or urged to try vaping through friend groups, vaping is typically the result of peer pressure. Teens tend to struggle with decision-making, and teens often start vaping without thinking about the consequences. One time turns into a second and from there it becomes a craving that must be fed.
"[My brother] was peer pressured into it, and he just couldn't stop. It's the [flavors]," said Ruben (a pseudonym). 
The FDA says that almost 85% percent of vapers prefer flavored options. Top picks are usually sweet, like frozen lime drop, peach green tea and watermelon wave. 
"They always have advertisements all over, and it's the flavors like orange and other things that are appealing to kids," said Ruben.
Vape producers take advantage of teen naivete, making them easy targets. Addicting flavors and advertising draw kids in. About 69% of middle and high schoolers were exposed to vape ads through numerous online spots. Drugwatch reports a situation where Juul Labs, an e-cigarette company, specifically targeted preteens through summer camps and off campus activities.
"A lot of people have [vapes] and there's a lot of shops [that sell vapes] everywhere, so somebody can just easily steal one, or they can just get one from a plug. It's like a game with drugs, after vaping it's weed, and after weed, it's pills," said Brooklyn C.
Younger kids are highly influenced by what they see from older teens. Youth look up to them and want to be like them. 
"Older people vape in front of [children] and [the kids] think it's cool to do those things, so they [start] vaping," Joshua L.
Vaping can cause problems for students, not just health wise, but also academically. At school, just carrying a vape in your backpack for another yourself or a friend can result in suspension or expulsion.
"I was with my sister, and we stole my mom's vape from her room – it had marijuana – and I told my friends about it. They said I should bring it to school, so I brought it for my three friends and I. I [only] hit it once, but my friends kept on hitting it, and the smell got so bad that we had to spray perfume. We all left, but a proctor walked into the bathroom and smelled it. [Administration] went to the cameras and [saw] everyone that had been in the bathroom. That's when I was sent to the office. I got suspended for a week; I got kicked out. Then I got sent to DCIS by one of the vice principals,," said Ellie E. (another pseudonym).