Fighting is Starting to Grow in Victoria Gardens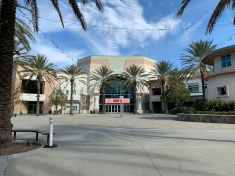 Victoria Gardens has been Rancho Cucamonga's favorite place to hang out for years. Whether people go there to shop, meet up with school friends, or have fun with their families, Victoria Gardens has often been a favorite place to be. But things have recently changed. Local shoppers have witnessed fights among teens, cops answering 911 calls, and injuries resulting in paramedic visits.
The Paul A. Biane Library has been the hotspot for some of these recent fights. Students throughout Rancho Cucamonga – middle school and high school alike – have been involved. Drama, relationships, or even just glaring at the wrong person in the wrong way are often the causes.
"Pretty much every fight that goes on at [Victoria Gardens] is between people who like to [start] beef. Sometimes people will get [beat up], and then people are running everywhere, and the cops are chasing them," said Nate G.
These fights are dangerous, as participants move out into the streets. Cars have to stop to avoid hitting people, and those involved in the brawls often get hurt themselves. Innocent bystanders could be casually shopping, and witness these interactions. Some feel responsible to stop what they're doing and break up the fighting, which can result in their own injuries.
"Everybody just started running. There were these two guys that started fighting on the street…in the middle of the street," said Nadine M.
Many of these fights are caused by social media. Online posts between two people can escalate the original problem. If those involved choose to avoid conflict resolution on campus, fights migrate to the local mall.
"Most people post [about the fights] because they were there too and it just spread around," said Serene Z.
With multiple friend groups hanging out at Victoria Gardens, groups who have "beef" with each other are destined to run into each other. 
"It's probably friendships [that causes fights], whenever I see it, it's groups," said Isai B.
In today's society, fighting seems to be accepted, even encouraged. Every day, students are coaxed by their friends to address conflict through fighting. Obscene texts, and 'jokes' about fighting are widespread. Normal kids who go to their peers to ask for help expect good advice. But friends who encourage physical conflict easily manipulate their peers into doing the wrong thing.
"Some people find it entertaining and enjoy watching people fight but it doesn't necessarily mean it's the right way to handle things," said Jose A.
Many students have friends who are willing to fight in public, and that negative mindset influences others to do the same. More often than not, fighting results in consequences that can damage a reputation in the community and create a police record with the sheriff's department.
"[Teens] can talk it out and ask an adult for help because they could get arrested. It's gonna go on their record and it's gonna affect them in the future," said Emelee C.