The Books are Back to Battle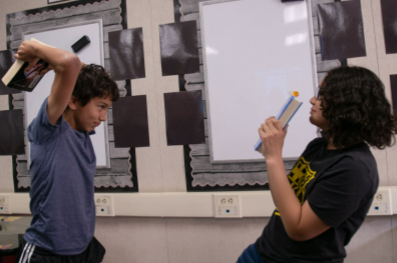 After three years of competing on Zoom, Battle of the Books is back! First introduced in 2008, this program includes reading a list of books while memorizing story content and author information. After completing 15 books from the list, students are invited to compete in the annual BOB competition at Summit Intermediate. It was initially established to motivate kids to put down their xBoxes and pick up an actual book. 
"It was started by the district to encourage kids to read different genres and get kids interested in reading, because BOB covers so many different genres that some kids may not have tried out before," said Mrs. Choi.
Mrs. Choi, the librarian at Day Creek Intermediate, is elated to finally hold an in-person competition.
"I'm excited to see everyone come together again, especially since we have not had the district competition for over three years. I'm really excited to see students from different schools come together and a team since different schools are going to be teamed up," said Mrs. Choi.
New readers who recently joined BOB can also face the challenges of starting to read new genres and long books.
"One of the hardest things about reading is to get started, because when we look at a big novel, the size of it might be intimidating. Students have to overcome the first few lines of a book. If you can get through that, it may draw the reader's attention or their interest," said Mrs. Choi.
Mrs. Choi enjoys the kids' progression through reading, as they learn and discover their interests.
"My favorite part about BOB is to see kids who were never interested in reading all of a sudden find their joy in these books because a lot of the stories in the BOB list are amazing," Mrs. Choi said.