Broken Yolk Cafe Review
  Instead of donuts, muffins, or any other sweet pastries, we were craving a classic American breakfast. We quickly gathered our things and left for the nearest Broken Yolk Cafe, located in Day Creek Square.
In 1979, the first Broken Yolk Cafe opened by the Pacific coastline in San Diego, California. Today, the franchise has over 30 locations across the country, with more soon to come.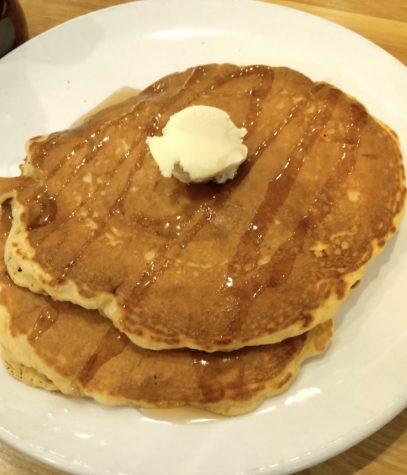 The restaurant is a brunch spot, open from 7 am-2:30 pm on weekdays. It is the size of a typical breakfast restaurant but is a bit too small for its popularity. Wait times can range from no wait to an hour depending on your time of arrival. 
The building has a country-like, yet modern interior. The cafe displays many paintings, featuring celebrities and common household items on its walls. It also included a small bar along with generous outdoor seating. 
When arriving at 7:30 am, the cafe was bustling with customers. There was no wait, and we were seated promptly. Despite the many demands of other customers, we received our food in about 15 minutes. Overall, the service was great and the staff members were friendly and personable.
We sampled the Sweet Buttermilk Pancakes, Sweet Trio, Chicken and Waffle Benedict, Sope Benedict, and Churro French Toast.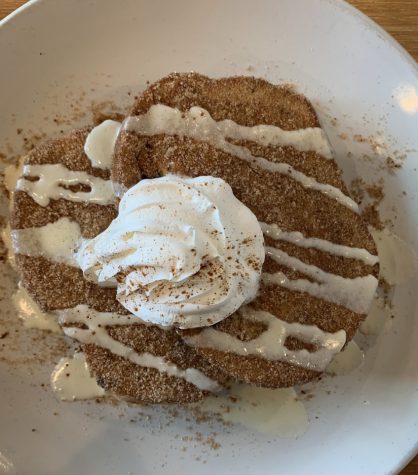 The Sweet Buttermilk Pancakes were light and fluffy; they were large in size with a dollop of butter to top them off. Although they were a bit plain, the pancakes had the perfect amount of sweetness.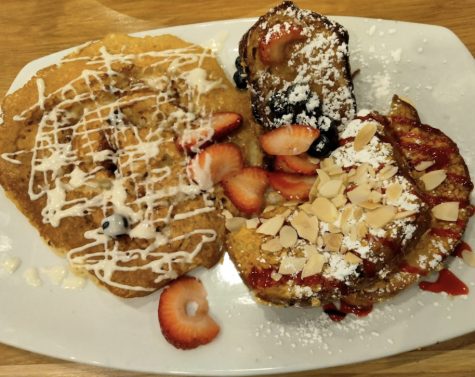 The Chicken and Waffle Benedict came with a slightly runny egg which was well-seasoned. The chicken itself was tender but a little soggy because of the egg on top. The Sope Benedict had a hint of spice with shredded beef that was both tender and flavorful. Hashbrowns came with both benedicts; they were thinly shredded and crispy.
The Sweet Trio consisted of three desserts: Tiki Toast, Crunchy French Toast, and Cinna-Cake. The Tiki Toast was made of a toasted Hawaiian bread roll and it had a light sweetness. The Crunchy French Toast was indeed crunchy as it was topped with almonds and fresh strawberry slices. It had the perfect texture and was also drizzled in strawberry syrup. The Cinna-Cake was the sweetest of all other sweet dishes and it was fluffy with a hint of cinnamon.
The Churro French Toast came with two slices, each sprinkled with cinnamon sugar and drizzled with a bit of icing with a dollop of whipped cream. The toast was warm and fluffy but could use a bit more icing as it wasn't quite sweet enough. The cinnamon sugar was noticeable, but could've been a bit sweeter.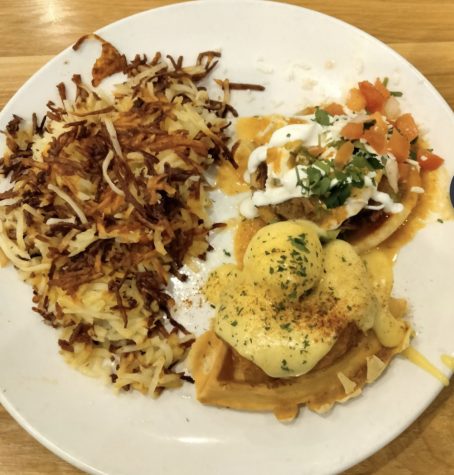 According to Yelp, the only negative feedback concerned long wait times. If you are planning to go to Broken Yolk Cafe, try to arrive around opening hours and avoid going during lunch times, as it can get quite busy. 
In terms of pricing, the Sweet Buttermilk Pancakes were $9.95, the Sweet Trio was $16.45, the Chicken and Waffle Benedict plus the Sope Benedict was $16.95, and the Churro French Toast was $13.95. For the quantity of food on each plate, prices were reasonable.
Overall, each dish was tasty and aesthetically pleasing. The customer service was excellent and the Howl would never hesitate to recommend you eat there!