The Truth Behind Vaping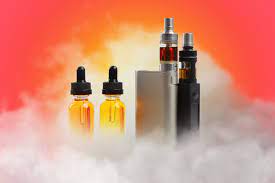 What are e-liquids? E-liquids are liquids typically in e-vapor products such as e-cigarettes (also known as vapes, vape pens, mods, and tanks). These products are notorious for having many different flavors. Currently, they include approximately 7,000 fruit, candy, dessert, and menthol flavors. All of these options prove that companies are working hard to hook youth and teens.
Companies attract attention from youth by sponsoring trending songs, using social media to promote their products, and packaging e-liquids to look like common food.
According to Truth Initiative, "A study that included middle and high school students found that 43 percent of young people who ever used e-cigarettes tried them because of appealing flavors." Although e-cigarette companies claim not to target youth with their flavors, their actions prove otherwise.
Historically, the more teens and adolescents are exposed to ads, the more they are enticed to start vaping. 17 of 20 youth e-cigarette users consume flavored products. Furthermore, about 69% of middle and high school students were exposed to e-cigarette advertisements from the internet, magazines, newspapers, TV,  and movies. 
For example, a study from the Washington Post found that Joe Camel, the mascot used by the R.J. Reynolds Tobacco Company for their brand Camel, was nearly as recognizable to six-year-olds as Mickey Mouse. To add on, RJ, the founder of the company, openly said that "Joe Camel ads are far more successful at marketing Camel products to children than to adults."
Other companies such as JUUL, have taken it a step further and begun to buy ads to appear on cartoon networks and youth sites. A quote pulled from Drugwatch about JUUL says, "Juul purchased banner ads on child-oriented websites for Nickelodeon and Cartoon Network among other websites designed for child audiences.
Statements like these show how tobacco companies are determined to target youth for lifelong addictions.
Proposition 31, recently prohibited the retail sale of certain flavored tobacco products and banned the sale of some flavored tobacco products, yet it is still not a complete solution. Additionally, it has not banned the use of small premium cigars, hookah, or loose-leaf tobacco. Many companies have begun to utilize these outlets and have taken advantage of it.
Big tobacco companies will not give up on trying to draw youth into the world of vaping with their flavored products. Neither will the thousands of volunteers in the United States that are working hard to prevent the next generation from tobacco addiction.