8th Grade to High School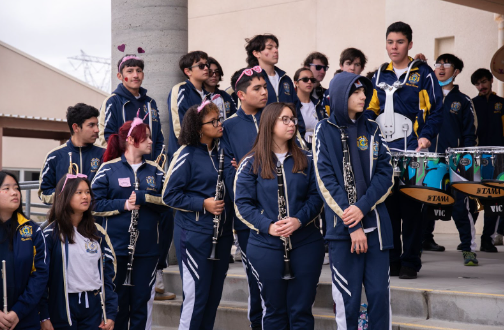 They say high school is heaven, and middle school is misery. 8th grade is a tiny bridge between the two. During that last year of middle school, students experience more field trips and rewards, but that comes at the expense of knowing their childhood is abruptly coming to an end.
8th grade students at Day Creek usually go to either Rancho or Los Osos, with a few heading off to Etiwanda High School. 
"I'm going to Osos because it's closer to me and it's easier, and I also live by the school," says Ethan C.
For some students, moving on to high school is similar to the feelings of promoting from elementary to middle school.
"I remember going from elementary school to middle school and it wasn't really a big difference in my opinion. Like making this transition from middle school to high school, I'm just looking forward to it," says Adrian M.
Moving to a different school means potentially separating from friends, which can seem like an opportunity, but also a burden.
"It's not really exciting [about losing friends] but I'm still excited to move forward and gain more friends, I guess," said Adriana M.
Some students might also be disappointed with having to leave their favorite middle school teachers as well.
"I will be sad to leave this school because it means leaving all my teachers that helped me get through these couple years that we had here, " says Alexandra A.
Sports and clubs are also a central feature of high school that most students anticipate enjoying. Unlike middle school, students can choose what their "fun period" is.
"[I'm most excited for] sports activities, like getting the chance to go against other schools," says Adrian M. 
While high school is the most influential time for grades as students move toward college, 8th grade scores and testing could determine where students are placed for the next four years.
"Most of the kids in high school will get a composite score from the district office based on their state testing, iReady, and letter grade they get in each course. Then their composite score gets to the high school they're going to and that will place them," said 8th grade teacher Mrs. Arellano.
Students also have the chance to choose their level. "They also get a packet and they can request what course they want to take for each class," said Mrs. Arellano.
Going into high school might seem a little challenging but Mrs. Arellano advises that students stay consistent.
"They need to keep the momentum they have here and if they do what they do best here it'll transfer really well into highschool and they'll be successful, but they just have to keep the same type of rigor and they'll be super great," said Mrs. Arellano.