Intramural Volleyball Returns to Day Creek!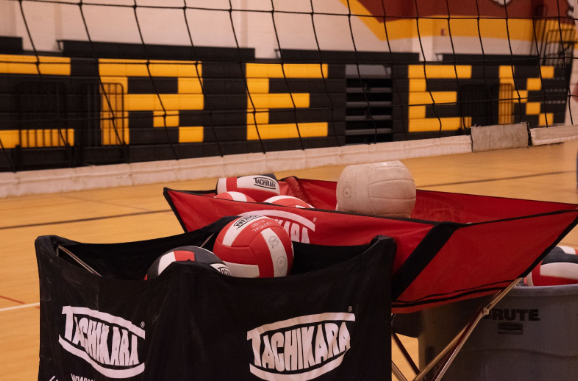 After three years of little to no activity in afterschool sports, intramural volleyball has finally returned to Day Creek's campus. Mrs. Gossage's practices on Tuesdays and Wednesdays after school focus on learning the basics of the game in preparation for some competition later this winter. 
Mrs. Gossage, the intramural volleyball teacher, is entering her second year of intramurals, which first began in 2019. But once the pandemic hit, she was unable to continue.
"The first year that I [taught volleyball] was the year before Covid, which was 2019. It's been about 3 years," said Mrs. Gossage.
She had her first experience of the sport as a student in middle school where she was coached by the recently-retired Mr. O. Her enjoyment of sport led to four additional years at Rancho Cucamonga High School, where she lettered in volleyball, before returning to her alma mater to coach the Cougar's freshman team.
"I had no experience playing volleyball. It was the first sport in the school year they had tryouts for. Had it not been for that I never would have played [volleyball]," said Mrs. Gossage.
Recalling her experience as a teen, Mrs. Gossage currently enjoys teaching volleyball while connecting with students outside of the classroom. 
"As a teacher, much of my day is the academic side of things that I feel like I don't get much personal time with kids. Some of my kids that are quiet in a classroom really come alive on a court," said Mrs. Gossage.
She also relishes the prospect of seeing students who haven't learned the sport improve. 
"It's fun for me to watch kids that get a lot better from practice," Mrs. Gossage said. "I think that's a neat thing for kids now to feel like 'I don't have a place, I don't know if I'm good or not at something' and intramurals gives them a chance to just jump in and try something," said Mrs. Gossage. 
As they grow in the sport, students are also able to build new friendships while exercising their bodies after sitting in plastic chairs all day long. 
"[Volleyball] is really fun, and you get to do it with your friends. It [also] improves your health because it is exercise. I've learned more about volleyball than I did before. I feel like it's something else added to my life," said Parna F.