"Krak" Boba is Addicting
Going out with friends is an exciting experience; but when you don't have a fun place to go to, things get boring. In search of some ideas, we opened Maps and the first recommendation was Krak Boba. 
In July 2020, the first Krak Boba opened, located in Riverside, a city 28 minutes away from Rancho Cucamonga.
"There are three owners in total. They didn't like the boba around Rancho, so they made their own," said Jeremy Haurissa, a Krak Boba manager. 
Like many typical boba shops, Krak Boba is small and intimate. Many customers stood off to the side as the location had two benches, which were both fully occupied.
"It's kind of hard, but at the same time, it's satisfying. Sometimes, when there are too many customers it can get hectic," said Jeremy Haurissa.
The interior is uniquely designed with elaborate murals and artificial plants suspended from the ceiling. A sweet scent fills the room along with light chatter. The menus feature appealing refreshments including various teas, smoothies, coffees, and even yogurt.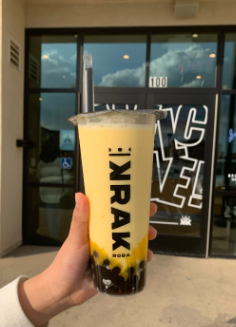 When we arrived, the place was crowded, yet it still maintained a calm and pleasant atmosphere. We quickly tended to and ordered five drinks: Mango Tango, Sunset Passion, Dragon Slayer, King Brulee, and Matcha Milk Tea.  
Each drink was flavorful and aesthetically pleasing with bright colors. The Mango Tango was sweet and had a strong, refreshing mango flavor. It was a smoothie and therefore had an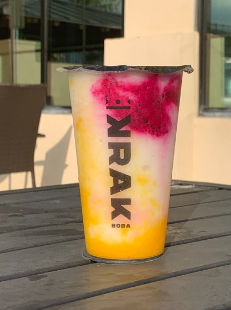 icy consistency. 
The Sunset Passion, a specialty, sparked a bright acidity as well as the perfect amount of sweetness. Another specialty, Dragon Slayer, tasted strongly of dragon fruit and a hint of mango, hence its name. It was lightly sweetened and very refreshing. 
The King Brulee, a specialty as well, was a tad too sweet but at the same time, rich and inviting.
On the other hand, the Matcha Milk Tea was the opposite; it needed a bit more sugar. Matcha is known for its strong bitter taste, but the tea was diluted with too much milk.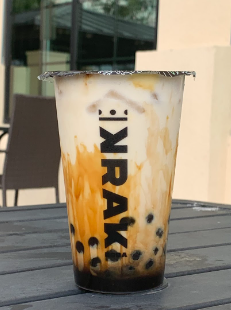 And don't forget the boba! The boba had a satisfying chew to it: soft but slightly firm towards the center.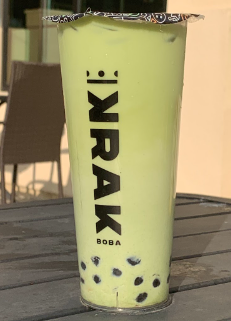 According to Yelp, the only negative comments concerned higher pricing and unavailable seating inside. The drinks were quite pricey as they ranged from $3.95-$6.45, not including toppings which are an additional $0.75-$0.90, depending on the topping. Regular teas tend to be on the cheaper aspect while the smoothies and specialties tend to be on the more costly side. Our total came to be about $32, including toppings. The Mango Tango was $7.20 with boba ($0.75), the Sunset Passion was $6.45, Dragon Slayer was $6.45, King Brulee was $6.45, and the Match Milk Tea was $5.35. For the quality and size of an individual drink, the prices were reasonable. However, for five drinks, it was more expensive than other boba shops and may not be suitable for large parties. Even so, the delicious and unique drinks along with the personable and quick service were worth it.
With 37.5 million views on TikTok, the hashtag #krakboba has caused the shop to grow popular on social media, giving Krak Boba more publicity. Though pricey, Krak Boba has very unique and delicious refreshments as well as wonderful staff members. It is the perfect place to meet up with friends, and we will definitely be returning!