Got Gas? No, the app silly!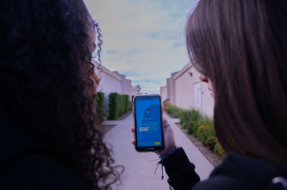 A new app has entered the social media circle, collecting over $3 million with 1 million active daily users in three months. What is this new competitor?
Directed towards adolescents, Nikita Bier, Isaiah Turner, and former Facebook engineer Dave Schatz developed Gas to "spread positivity" by allowing users to send anonymous compliments to one another. For a short time, Gas dominated previously reigning apps TikTok and BeReal, but has since lost its crown. So, how does the app work? And what caused Gas' sudden fall from grace?
"It's an app where there are questions every hour, asking who applies to [the question], and there are four people [listed]. You choose one, and it's supposed to portray who's into you or likes you," said Giselle B., a seventh grader at Day Creek Intermediate.
The purpose of the Gas app is for teens to give and receive positive comments from their peers and "see who likes you."
"I got many good comments about myself, which I felt was very comforting [because] I know that I'm awesome, and people like me. If you would like to send people a positive note anonymously, that's a useful app," said Samuel F., a 7th grader on campus.
Some find the app uplifting, which can boost a person's self-esteem. The app's structure uses compliments to build or "gas someone up," hence the name.
In contrast, others find it a waste of time and money.
"I downloaded it out of curiosity because my friend told me to, but [later] deleted it. I would not recommend this app to other people because it's kind of pointless to find out who's saying this
stuff, and you have to pay for it," said Giselle B.
A $7 per week subscription called "God mode" on the app gives the user hints as to who gave which compliment.
This feature can also be used to identify a secret admirer. In fact, Gas used to be called Crush. Several of the platform's questions have a romantic focus, and finding out who voted for whom can provide romantic clues. Some users are concerned that this may create drama.
"I don't really like [the app.] I know a lot of people at school can friend you even if you don't know them. [Also,] if someone were to have a girlfriend or boyfriend, that can cause a lot of drama," said Zareen Y.
Results from the app's polls also have the potential to generate gossip and conflict among peers on campus.
"I think it's kind of weird putting people together based on questions and names. I was uncomfortable when someone sent [a notification] to me. [When] random people say they like you, it's kind of weird," said Alexandra B.
Another reason several interviewees mentioned deleting the app is due to a rumor that Gas is being used for the trafficking of minors. The app was falsely linked to kidnappings in multiple states, and word spread like wildfire on social media.
However, according to the Washington Post, "Gas has never been linked to any form of human trafficking, and the app's very structure makes it impossible, experts say. The app has limited features, doesn't track users' locations, and can't be used to message someone."
However, this misinformation has already damaged Gas' reputation. Users have been removing the app from their phones out of fear, dropping its popularity rank. Nevertheless, many people still use and enjoy the app.
"It's kind of like, 'Oh sweet, someone picked me out of four people.' If I get a notification when I'm sad and I see that I'm best [at] whatever, I smile a little bit," said Mackenzie R.