The Origins of Halloween: Is Trick-or-Treating Dangerous?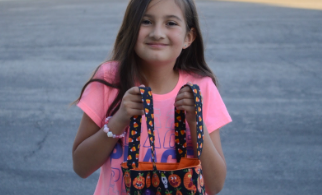 Don't take candy from strangers! This is the classic saying most parents tell their children. But what about trick-or-treating? On the night of Halloween, children walk up to the doors of nearby residents and ask for candy. Though fun, there could be a little bit of risk involved. Yet, people all across America take part in this tradition. Is trick-or-treating dangerous?
The History of Halloween
Halloween dates back to the ancient Celtic festival of Samhain, celebrated 2,000 years ago. This special day marked the end of summer and the beginning of a cold winter, a time of the year often associated with human death. Celts believed the border between the living world and the dead merged on the night of October 31st. They celebrated Samhain, believing that the ghost of the dead had returned to earth. Irish immigrants eventually brought this holiday to America in the 1840s, and it is now celebrated across the country.
Trick-or-Treating
Based on European traditions, trick-or-treating involves children dressing up in costumes and walking from house to house, requesting treats from adults. On any other day of the year, approaching strangers would be deemed potentially dangerous and prohibited by parents. So, is trick-or-treating risky or a fun, safe activity?
"Yes, [it can be dangerous] because there could be drugs in candy, and kids might not be aware of that. [Also,] kids could be kidnapped by crazy people," said Maytri M., a seventh grader at Day Creek Intermediate.
In contrast, most teens think that trick-or-treating is perfectly safe with the right people around.
"I don't think that [trick-or-treating can be risky] because it's fun and it really isn't that much of a harm. It can't be that dangerous when there are a lot of parents around," said Alyssa P., an eighth grader at DCIS.
Despite the concern in culture, stories about tainted candy are closer to a myth than reality, though incidents do happen on occasion. According to the CBC News, "One of the only known cases of someone being charged in connection with Halloween candy tampering occurred in Minneapolis, Minn., in 2000. James J. Smith, 49, was charged with felony adulteration after four teenagers told police they received chocolate bars that were later found to contain needles. One of the children was reportedly injured by a needle after he bit into a chocolate bar but did not require medical attention."
However, the site also states, "Joel Best, a University of Delaware sociology and criminal justice professor, has researched reports of Halloween candy tampering in the U.S. dating back to the 1950s…. Best said in some instances, kids tampered with their own candy to get attention, or a friend or family member played a prank that went awry or a foreign object ended up in candy during the manufacturing process."
Best said that despite decades of fear, he has never found data showing kids being targeted with contaminated or dangerous Halloween treats.
While it is possible to receive unwanted surprises in candy, evidence shows that it is unlikely that someone will intentionally poison a trick-or-treater.
Instead, the real risk may lie in traffic incidents. Common road dangers during Halloween include non-illuminated costumes which prevent visibility for passing motorists, children dashing across streets without watching for passing cars, or inattentive drivers who may be unaware of pedestrians.
Even so, Halloween is still a fun holiday that millions of people celebrate worldwide. 
"I'd still go trick-or-treating [despite the dangers] because it's a way to spend time with my friends and just hang out, and that'd be fun," said Shreya P., a seventh grader at DCIS.