Students of Day Creek: Kassy R.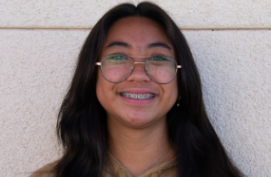 Question: Would you rather have to listen to the same 10 songs or have to watch the same 10 movies for the rest of your life?
"I would rather listen to the same ten songs. [My ten songs would] probably be Bad Habits by Steve Lacy, Memories by Conan Gray, You Belong With Me by Taylor Swift, and Gorgeous by Taylor Swift, Static by Steve Lacy, Love Story by Taylor Swift, Buttons by Steve Lacy, Entergalactic by Kid Cudi, and Some by Steve Lacy. [I really like Steve Lacy]. He's my favorite artist because I always listen to his music and he also has a unique type of music. [I would rather] listen to the same 10 songs because it makes me happy and watching movies could get really boring because I don't have a big attention span.