Messi or Ronaldo?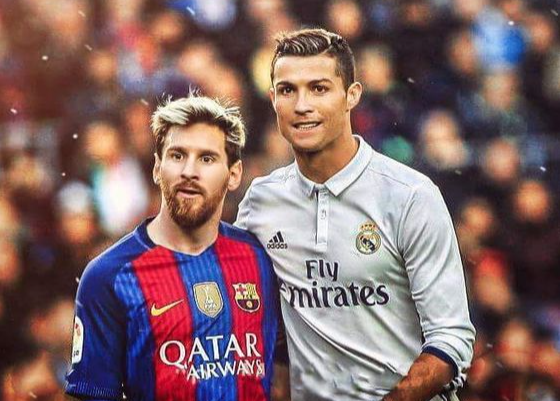 The rivalry between Ronaldo and Messi is something known widely around the soccer world. Their opposition began when the two competed against each other for the first time in the 2007-2008 UEFA Champions League semi-finals. Although the result of that game was a win for Ronaldo's Manchester United, the two displayed tremendous talent that caused viewers to recognize them among the best soccer players in the world.
Many people have disagreed as to which of the rivals is better. In terms of Ballon D'ors, an award given to the best soccer player in the world, Messi has seven. However, Ronaldo has more career cumulative points toward the Ballon D'or. This leaves for ongoing debate as fans argue which player is the best of all time.  
Ronaldo
"Ronaldo is better than Messi because he has better footwork," said Emily B. "He's just better."
Countless people believe that Ronaldo is superior to Messi because of his acrobatic goals, hard-working mindset and amazing skills. He is best known for his finishing ability. Ronaldo has quick acceleration and great ball control.
"I think Ronaldo won a lot of awards because he is a great player and has good skill," said Shreya P. "[He] deserves all these awards."
Ronaldo has won five Ballon D'ors and holds the record for most goals in the UEFA Champions League, EUFE Championship, FIFA World Cup, and UEFA Nations League Finals. Additionally, he has won the Champions League five times as well as seven league titles.
Messi
"I feel like Ronaldo is a show-off," said Addison F. 
Numerous Messi supporters believe that Ronaldo demonstrates flashy skills, while Messi focuses on what he has to do on the soccer field. Although Ronaldo has scored more goals in total, Messi has a higher season scoring average of 37.9 compared to Ronaldo's 35. He has repeatedly displayed his incredible free kicks and his excellent dribbling skills. 
"[Messi is] more technical [and] he is more of a team player," said Anthony A. "[He] has more assists and more assist ratios."
Since their debuts, Messi has a higher number of assists (339), while Ronaldo has 272. Messi fans believe that Ronaldo is constantly gloating and usually keeps the ball to himself to score while Messi is a playmaker and tries to involve his teammates.
In addition to Messi's seven Ballon D'ors, he also has the most hat tricks in LA Liga and the UEFA Champions League. He also holds the record for the most assists in La Liga, a La Liga season, and the Copa America. He is considered to be the "King of Assists."
Who is Better?
Soccer fans definitely have an opinion about their favorite player. Ronaldo has the best finishing and flashy skills, while Messi, on the other hand, is more of a team player and keeps the ball moving. He also has a better free kick. Yet without it, he wouldn't be able to score as much.
Messi in his prime was unstoppable, but recently, after his move to PSG, his performance in games is statistically not as strong as it once was. Currently, Ronaldo appears to be the greater player. Both enjoy watching the other play and respect each other's skills.
"I like to see all the good footballers and he is one of them. I really enjoy seeing him play," said Ronaldo.
Even though the two are constantly compared against each other, both players will share something larger than their rivalry could ever be: their love and passion for the game.