Who is Going to Collaborate with Elton John Next?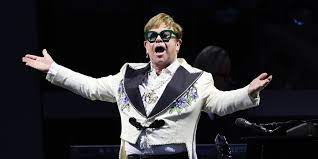 Elton John, a legend among older adults, has recently begun making songs with the new generation of artists.
Born in London, the 75-years-old artist is renowned for his musical ability. He started playing on his grandma's piano at a very young age. After his mom heard him play, she decided to have him take lessons. Mr. John then spent two years composing music for other artists. At eleven years old he earned a junior scholarship to the Royal Academy Of Music. He now composes much of his own work and has received a total of five Grammy awards. Some of his most popular songs include "I'm Still Standing," "Rocket Man," "Can You Feel The Love Tonight," "Cold Heart," and "Don't Go Breaking My Heart."
Elton John recently created a mashup with American singer, songwriter, and dancer Britney Spears after she took a break from producing music for six years. In a recent interview, John said that he hoped to boost Spears' confidence and bring a smile to her face. Their collaborative mashup, "Hold Me Closer" includes portions from Elton's "Tiny Dancer," "The One" and "Don't Go Breaking My Heart." His recent hit was released on August 26, 2022, and appeared to do what John intended, which is to get Spears back into what she is good at.
In 2021, Elton John and English singer-songwriter Dua Lipa remade Elton's song "Cold Heart," which is currently trending throughout social media. The song has over one billion plays on Spotify. John and Lipa remind the audience that age doesn't restrict musical creativity. In an interview with Billboard, Elton said that he wanted to gain favor with a "hip, younger" audience.
Outside of singing and composing, John announced he was bisexual in 1976 and is married to David Furnish. John is also an HIV/AIDS charity fundraiser. After the deaths of Ryan White and Freddy Mercury, John established the Elton John AIDS Foundation, which made over $300 million.
Based on Elton John's collaboration with Spears and Lipa, it seems that he is creating more music with younger artists at the twilight of his career in an attempt to reintroduce himself and gain popularity among teenagers and younger adults. Who will he collaborate with next?