Trending DJ creates many remixes to popular songs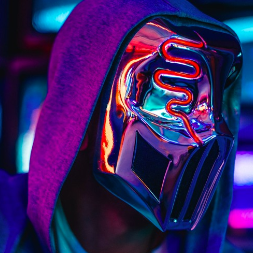 Have you heard of DJ Sickick? He is growing across social media for his creative remixes. Not only is he popular for his remixes, but people also know him for his masks. He wears different styles of masks that are flashy, sparkly gold, metallic silver, bright red, purple velvet, and black with a unique red design. Sickick has multiple tours scheduled across the United States in cities like Dallas, Los Angeles, and Chicago.
Sickick's real name is Lomus Rai Babber. He is 33 years old and was born and raised in Canada. Sickick was the lead singer in the music group Culture Shock. In 2016, he opened a show for the rapper Drake which launched him onto the scene. Now a music star, Sickick has almost 4 million followers on YouTube, 4.5 million followers on Instagram, and 4.8 million followers on TikTok.
Sickick's remixes are phenomenal! His "Talking to the Moon" remix went viral on TikTok and was used for the Face Symmetry Challenge. His remix was used by over 2.5 million users.
Sickick has really cool merch for fans on his website Sickickmusic.com. T-shirts, hoodies, tank tops, crop tops, hats, mugs, slides, fanny packs, phone cases, and a replica of his black mask are all available. Other online sites also sell replicas of his masks for people to purchase and even wear on Halloween.
You may be wondering why Sickick wears a mask. According to Yahoo, he covers his face because he has stage fright when performing in front of big crowds. "When I put this mask on, I can do anything," he said.
Sickick is an inspiration to many people. He serves as an example that people should never give up on what they love doing. Similarly, he never gave up performing and making music, despite his fears.
According to fans, Sickick's tours are fun and exciting! Fans find it interesting to see which mask he chooses to wear while performing and enjoy getting to understand more about him through his music.