Harry's House Album Review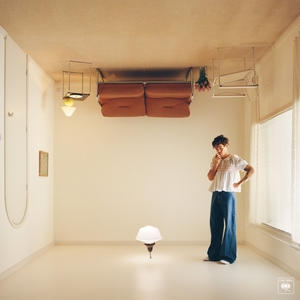 Harry Styles released his third album "Harry's House" on May 20, 2022, marking his new era of music since 2019's "Fine Line." The album features thirteen new songs.
The first track on Harry's House, "Music For A Sushi Restaurant" functions as an upbeat introduction to the album's themes. The song was heavily inspired by the artist's setting where many of the songs were written, and the tune has an upbeat feel that is fun to listen and dance to. Styles' singing reflects his happiness, with a constant, loud beat in the background, almost as if "Music For A Sushi Restaurant" is being played inside a store or restaurant. As the song progresses, synthesizers and saxophones that seemed almost hidden in the song's mix begin to rise and create crazier waves of sound for Styles' vocals. "Music for a sushi restaurant/ Music for a sushi restaurant/ Music for whatever you want," he sings.
The next track "Late Night Talking," is equally fun. A groovy, lively effect makes Styles' vocals in the song's verses, backed by synthesizer chords that make the song feel alive and entertaining. Then, as the music grows louder, Styles' singing intensifies to the point where it seems as if he is singing to a crowd without a microphone. "We've been doing all this late night talking" he sings, in a high vocal that sounds almost like a shout.  
The piano/guitar in "Grapejuice" begins slow and mellow, but it becomes more vibrant as Styles' unfiltered voice begins to sing the song's chorus. By the end of the song, there is a unique interpretation of the feeling of being "in love" that the song is about. While "Grapejuice" is one of the slower and sappier songs, it's one of Harry's most effective moments. 
Track four, "As It Was," was the first in the album to be released. On the one hand, the melody is another fun and carefree song, but on the other hand, the lyrics he sings make it so that not a moment in the song is wasted. "As It Was" seems to be a fun song about an upsetting event, like most songs that send a subconscious message.
Track five, "Daylight" sounds like an unforgettable hit. All the musical elements of a traditionally "good" song are present and all of them combine into something emotionally stimulating. The second verse, in particular, is an incredible inclusion within a personal album. When the bridge and final chorus play, it feels like an ingenious way to prolong the album that already soars.
The next track, "Little Freak" slows the album's previous upbeat songs and creates a slower song. Styles is so talented at changing his style in songs as this one feels like more of a ballad. He has always been an expert at connecting certain parts of the music to match his voice exactly. On "Fine Line" and "Harry Styles," he mixes these elements in multiple songs to make his original pop flavor, and this is no less apparent on "Harry's House." "Little Freak" is a prime example of these voice changes. 
If "Little Freak" is like a ballad about love or loss, then so is his next track, "Matilda," but in a much different way. " Little Freak" seems like a love ballad while "Matilda" sounds like a ballad about a loss of love or never having love. At the end of "Matilda" when Styles sings "And not invite your family, 'cause they never showed you love," the music slows. It seems as though he is comforting a person who went through upsetting events in her life. 
"Cinema" takes "Harry's House" back up to the positive happiness that the album seems to specialize in. The drums play parallel to the many guitars and synthesizers as Styles sings his lyrics. "I just think you're cool/I dig your cinema/Do you think I'm cool too?/Or am I too into you?" Like some of the songs on this album, the song confesses love, yet it refrains from the full confession because the song is so literal that the listener can't help but relate. 
Once the tail end of "Cinema" fades out, the beginning of "Daydreaming" quickly sneaks in. Styles effortlessly flows through the song in a dream-like manner. "Daydreaming" is a special emotion – one only replicated by the happiness of being with the love of your life. Lyrics like "give me something to dream about" and "stay until the morning" are perfect descriptions of "Daydreaming's" love message.
"Keep Driving" is another song with an uplifting beat. There are many synthesizers and guitar chords that "thud" together as Harry sings lyrics about a road trip. "There's more concern without the engine sounds/We held darkness and we've held clouds/I would ask, 'Should we just keep driving?'"  No other song on this album really explains the peace of driving on the road, alone with a loved one. 
"Satellite"  is track 11. On the one hand, the melody is relatively simple, and there are music breakdowns in between choruses. On the other hand, the song and lyrics have a very slow tempo with a message about loneliness. It describes a breakup and the wait to get the person "back."
The next two tracks, "Boyfriends" and "Love Of My Life" return to a quiet, somewhat sadness about love. The songs talk about misunderstanding relationships and not being able to reach love. The quiet piano chords and synthesizers create a world of loss. Because of that, its impossible to not relate to his feeling of emptiness that's described in the songs. 
Simply put, "Harry's House" is an upbeat, fun album with emotional ballads, and is definitely his best album yet. It's a great way to continue his growing musical legacy