Open House Returns To Day Creek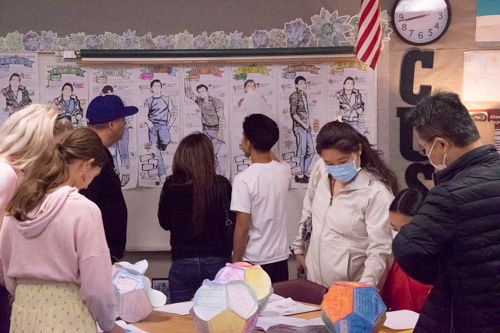 You tour your family around the room, showcasing your work and dedication as the teacher shakes hands and takes photos with students and parents. All of your projects have led up to this moment, which reminds everyone once again how 'great' school is. 
After two years of virtual class, Day Creek finally had an open house. State testing came to an end while students and teachers prepared for May 11, putting in a ton of time to work on projects to show parents.. 
This is a huge step forward in 'normalizing' things, as Day Creek returns from Covid restrictions.
"We went from 'Is school going to be online again?' to 'We're having an Open House!' I just feel so happy that we're doing normal things again, and getting back to what we used to do – just being kids," said 7th grader, Prisha V. 
Not only does Open House give students the opportunity to brag about their work, but it also provides them the chance at social interaction. During Covid, kids could not have in-person interaction, which is all the focus of Open House. 
"Being at an Open House, I just felt better overall. People were laughing, talking, greeting each other, and I could meet my friends and make remarks on group projects, showing my parents the work for the year. It was just delightful," said Prisha. 
Open House this year was definitely worth the wait, with all the benefits that come attached to what used to be an expected event.