Paws to Share is Back!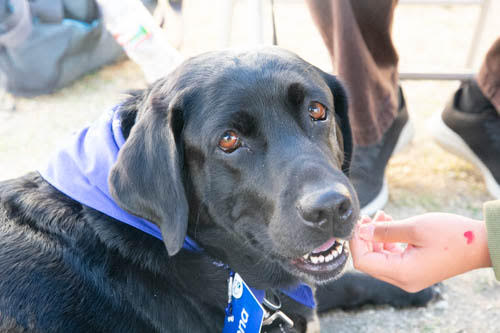 Paws to Share visited our campus a second time this year during iReady testing and students at DCIS enjoyed their return trip last week. These therapy dogs were invited to return with the intention of bringing relaxation and enjoyment during a challenging week of state testing. They were here from Monday, April 18 to Friday, April 22. Many of the same dogs came each day to help the students gain a connection and familiarity with the canines.
"You guys get to see us for a whole week and start to get to know the dogs because they are very much about you wanting to meet, [and] we like the fact that you have us back every day," said the president of Paws to Share, Jamie Goldfarb.
As the students feel less stressed with these furry and loving dogs, tension melts away.
"Students tell us all the time that it's the best day of school they have ever had when we do this. We even heard that kids' stress levels go down not only for a day, but it also goes down for months," said Goldfarb.
Even as the students are impacted, the dogs feel the love as well.
"The kids really lean in and hug the dogs, pet the dogs, and then it is just a stress reliever. The dogs love it as well. It's a good experience for the kids and the dog," said Deborah Baker, a Paws to Share owner.