Galaxy Wars Tournament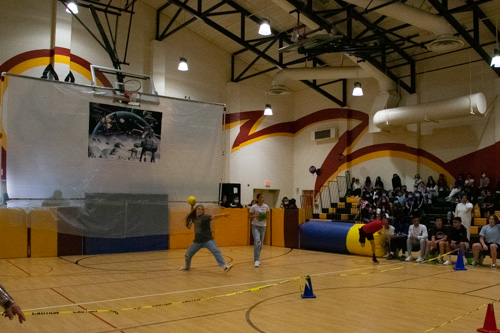 Day Creek Intermediate's PE staff created a fun and entertaining way of keeping students active and involved in class. From March 17-18, students signed up and participated in a Star Wars themed survivor ball tournament called Galaxy Ball.
Galaxy Ball is a close cousin to dodgeball, however, there are a few differences, the most noticeable being the number of dodgeballs used in the game. Instead of using one, Galaxy ball uses four.
"You have teams of ten, and you are out if the ball hits your body or you step out of the centerline. If you get out, you go to the sidelines, and if your teammate catches the ball you get to go back in. We usually have a girls round, a boys round, as well as co-ed teams," said Mr. Nemecek.
Participants in the tournament had different reasons to join in the fun. It certainly provided a great way to connect and make friends.
"I just wanted to have fun with my friends – to get better [friendships] with them and bond more," Travis G said.
With the decorations, costumes, teams, and opportunity to compete against fellow students, the tournament was a blast for everyone. Nevertheless, the players did voice interest in a larger court and play area.
"[I'd like] more space for the dodgeball [tournament] because it's kinda small," said Kaleb W.
The fun wasn't limited to the participants in the tournament. It also brought great amusement to the viewers.
"It is very entertaining [with] a lot of things to look forward to and a lot of action," said Brooklyn B."
Having activities at school offers a little break from class to have fun and compete in games with fellow peers, though champions didn't win as a result of luck.
"It was really rewarding and our whole team was very proud. A strategy that I used was to not be the first one to grab the dodgeball because that would help me not get out," said Galaxy Ball winner Bettina L.
Students at Day Creek anticipate events like this and would love to see similar activities throughout the year's schedule.
"I like it, and I feel like we should do it again because it's a fun activity," said Nathan A.