"A Curse So Dark and Lonely," A Better Beauty and the Beast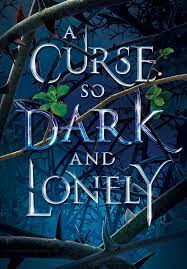 "A Curse So Dark and Lonely," a fantasy fiction book by Brigid Kemmerer, is a world you will never forget. Published on January 19, 2019, this trilogy is a uniquely twisted take on "Beauty and the Beast." The author wrote this book as a narration of the two main characters, Prince Rhen and Princess Harper. Because of this, she pulls the reader into a fantasy world, with ups and downs that capture the reader's attention through the very last page.   
The tale begins as Crown Prince Rhen of Emberfall is forced to relive the winter solstice of his eighteenth year. Expected to find a woman to fall in love with, he thought that the task would be easy. This was before he turns into a beast on a hungry rampage at the end of each season. Before destroying everything in his path, Prince Rhen and his last commander, Grey, must find a way to break the curse before time runs out.
Living in Washington D.C., 18-year old Harper Lacy hasn't had an easy life. With her mother dying, her father somewhere far away, and her brother always underestimating her because of her cerebral palsy, Harper learns how to survive on her own. One night, when she tries to save a stranger in the streets, her survival trait comes in handy as she's magically transported to an unfamiliar world. 
Harper doesn't know where she was transported and what to believe about this world. However, as she spends time with Prince Rhen, she begins to understand what's at stake. Meanwhile, when Rhen realizes that Harper isn't the average girl to allure, his hope to break the curse comes flooding back. But many forces are hurting Emberfall, and it will take more than a broken curse to protect Harper, Rhen, and his people from destruction. 
Brigid Kemmerer keeps the reader intertwined in her story by producing vivid images in her tale. Her descriptions create a theme of suspense and make the reader wonder what happens now? Kemmerer uses her descriptions to depict a world from the character's eyes, providing illustrations to feed the reader everything they need to know and more!
Kemmerer entangles the reader through the relationships she produces between characters. Her narration from Harper's point of view counters Prince Rhen's point of view and shows the reader how each character thinks and feels about the other.  The differing first-person point of view gives the reader what feels like a mini-story within each chapter of the overall story.
Lastly, the author keeps the reader's attention through unique plot twists. This book exceeds expectations through a wild world with twists, turns, ups, downs, and surprises. 
Don't wait long to find a copy of "A Curse So Dark and Lonely," as you'll certainly enjoy this thrilling and spirited story, the first of an amazing trilogy.