Can Reselling Shoes Pave the Way for Success?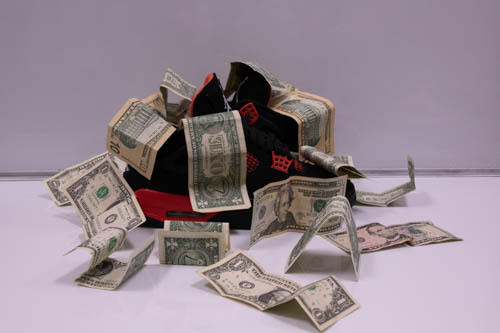 Imagine walking into a brand new shoe store that all your friends have been talking about. You notice a new pair of Jordans you've never seen apart from online, and ask one of the workers to check if they have your size. They return from the back of the store with a Nike box. You ask for the price and your eyebrows rise with shock when you get the answer: $650! 
The popularity for leather, rubber, and a pair of shoestrings has never been higher. And students on campus are investing their own money in hopes of buying and reselling them in an attempt to make a handsome profit.
 "Regardless of the transaction, I'm making money, it doesn't matter if it's 10 dollars. As long as you're able to get your initial investment back plus a little bit more, that's my number one priority," OOS Kicks. 
Reselling shoes is a great way for teenagers to make money. Options for making money at such a young age are very scarce for most kids. When students decide to resell they have the ability to make more money than other teenagers.
"Try not to buy the highest hype items in the beginning, everybody one has to start from the bottom. The reason I say this is because some people aren't able to have capital, some people aren't going to have credit cards. Try to find shoes that potentially can make the most money by spending your initial less, because the last thing you would want to do is go in debt," said OOS Kicks.
The bigger the demand, the more expensive resellers can sell them for. Students can purchase them from various sneaker apps such as the Nike Snkrs App, for retail price and then resell them for profit. This allows teenagers to learn how to make money in the real world.
"Right now because of the market and the hype I invest in a lot of Nike Dunks, Nike SB Dunks, and Jordans. When I say Jordans, I invest in four specific models: the Air Jordan 1, Air Jordan 4, Air Jordan 5, Air Jordan 6, and Air Jordan 11. Those are usually the top sellers for me, I try to keep my purchases as low as possible and then sell at Market Price," said OOS KIcks.
Sneakers like the Nike Dunks and Jordan 1s-11s are shoes with the most hype at the moment. Investing in these shoes can make teenagers a lot of money and would be a safe investment since so many people want them.
"My biggest deal to date as of right now would be my bulk deal. My first bulk transaction I sold 165 pairs of Sean Weatherspoon asics for $400 each, that was a $66,000 deal, and I profited about $17,000 from that one," said OOS Kicks.
 When students turn to reselling, they get large amounts of money and get to learn about how to run a business. It is also a fun way for students to learn money management skills. 
"My number one priority is the hustle and (reselling) prepares me for when I'm older since I'd like to get into real estate," said Kaizenskicks, a student reseller.
Learning how to invest in shoes at a young age will help students later on by teaching them investing, responsibility, and money management. If they fall in love with investing they have the ability to expand it into a full business and become young entrepreneurs.