Ron's Gone Wrong Didn't Go Right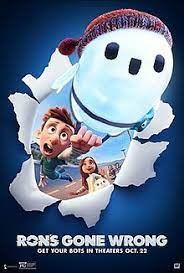 Ron's Gone Wrong definitely veered the wrong way, a significant contrast from recent Pixar movies. The film was initially released on October 22 and again through Disney+ on December 15. The movie was nominated twice for underserved Annie Awards, as it unsuccessfully attempted to tug at the heartstrings of the viewers with a sob story of a lonely boy. 
Ron's Gone Wrong is a tale of an 11-year-old boy named Barney, who stands out in the crowd for his lack of social connections. Bubble, the film's interpretation of real-life Apple devices, creates a robot friend, named B-Bots, whose primary purpose is to make friends with the owner. Their catchphrase is "Best Friend Out of the Box." Barney, the main character, does not have a B-Bot and hopes to receive one for his birthday. Although his wish is fulfilled, his "best friend" is not the average bot.
This robot, named Ron, was illegally purchased by Barney's father and grandmother. Ron is a little cuckoo, the result of being dropped from a Bubble truck. While he can't do things the average bot can, he does succeed in becoming Barney's best friend. Ron doesn't have any rules in his system, so he makes friendship fun. Towards the end of the film, Barney and Ron run into the woods to escape Bubble. However, when Barney is in danger, Ron sacrifices himself for Barney's survival.
The movie is about the evolution of technology and how children do not interact as well as they once did. The story's lesson attempts to explain to viewers that making friends in person is better than trying to befriend someone digitally from a random, disconnected place halfway around the world. 
The movie provides an expected lesson, yet at a slothlike pace. While the trailer is cute and fun, the full movie is boring and slow, a stark departure from other Pixar movies. If families hope to enjoy the stereotypical Disney Pixar film, Ron's Gone Wrong is not a good choice. 
The humor of this film was sparse. Only three parts were remotely funny. In one, Ron sang Barney's grandmother's favorite song; "dikky dikky dakka dikky dikky dikky dakka," while trying to dance. In another, Ron protected Barney by "fighting" Barney's bully, Rich Belcher. In this scene, Ron literally attempted to "take off" Rich's head, until Barney helped him realize that it was not possible. Finally, Barney tried to "insert registered name," yet his registered name was "Absolom?!" which included the punctuation. That was it. The remainder of the movie was unexpectedly dry and boring.
The sparsity of humor makes Ron's Gone Wrong glum and bland. Comedy has historically been  Pixar's strong suit, yet this movie was robbed of that spark. Earlier Pixar flicks like Toy Story, Cars, and The Incredibles have left audiences laughing while simultaneously feeling the heart of each plot. This film fails in both arenas as there just isn't much there, apart from the occasional  chuckle. 
WIth a boring plot and a weak moral lesson, Pixar failed in its recent attempt to provide family entertainment. Skip it.