There's a New Coyote in the Pack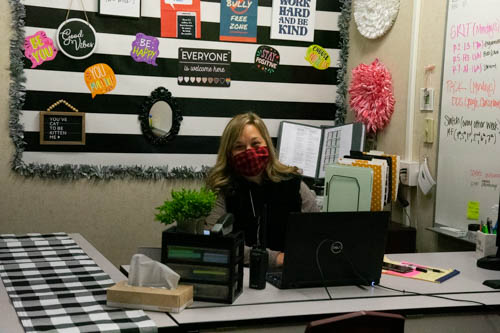 We all remember the day that Mrs. Burr left Day Creek Intermediate School. It was a rough one, especially for the students who had developed a close rapport with her throughout the past two years of Covid, Zoom classes and Hybrid instruction. 
But now there is a new counselor, Ms. Gaines, who has taken her position. She has several years of experience and is pleased to interact with the student population at DCIS.  
"In middle school and high school, in my friend group, I was always the person that my friends would come to for advice. I started to notice the advice I would give them always worked and my friends enjoyed talking to me. So I just took that and ran with it," said Ms. Gaines.
Little did Ms. Gaines know that the advice she gave to her friends in school would one day lead her to a career in school counseling. 
"I value mental health, and I'm very passionate about explaining to students how important their mental health is. I think my number one favorite thing about being a school counselor is being a source of support for students who may not have any support at home," said Ms.Gaines.
Ms. Gaines prioritizes mental health as much as physical health. She loves being able to help students who walk into her room for guidance, though she realizes the importance of keeping her emotions neutral. 
"As I give advice, I give myself that same advice. I can't be great for you guys, unless it starts with me, and I feel like I am great for myself."
Ms. Gaines recognizes the misconception that school counselors can't give good advice or haven't gone through the same amount of training as an actual therapist. 
"I think there's a stigma associated with school counseling, where if [students] go to a school counselor, there's something wrong with them."
Ms. Gaines hopes to clear the stigma and help students feel more confident in seeking advice from a school counself. She works to the best of her ability to help students cope through serious middle school situations. 
"If someone tells me that they are thinking or have historically already hurt themselves, I go into protection mode. I do a risk assessment and then I proceed accordingly," said Ms. Gaines.
A lot of students have struggles outside of school and aren't sure how to deal with them. Ms. Gaines works with these students to create a safe atmosphere for sharing.
"It depends on the degree of risk. If someone were to sit in front of me and tell me that they're going to harm themselves I would make sure to notify all of the appropriate people that would need to care for that student," said Ms. Gaines.
She authentically cares for the students she meets and moves quickly to establish rapport. Students can feel free to come to Ms. Gaines for support throughout the school year. She assures the Howl that she will give them her full attention and help to the best of her abilities. 
"My number one goal is to be relatable with that student to establish trust. Individuals who have chosen to represent [a] student body are passionate about what they're doing. They truly believe that every student can and will be successful," said Ms. Gaines.