Behind the Scenes on the Purple Carpet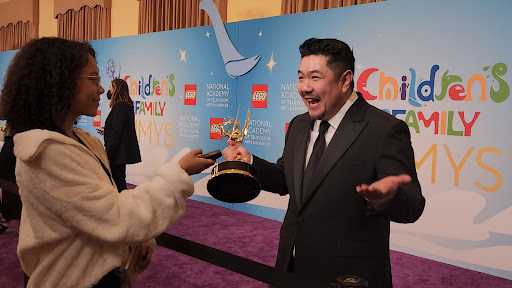 Makayla S. was walking to class to work on a journalism assignment, when her adviser called her over to chat. He showed her a recent unexpected email that could be a unique stepping stone into Makayla's future.
The email was from Alexa Diaz, a social editor from the New York Times for Kids. Diaz had listened to a recent Howl podcast and was impressed. She offered an opportunity for Makayla to have a conversation with the nominees and winners of the 2022 Children and Family Emmy Awards.
"I was really surprised, and I thought it wasn't true at first. I thought it was some sort of catfish, or someone just found me on the internet. I was really surprised because I didn't think an opportunity like this could happen," said Makayla.
Things like that don't just happen out of the blue. 
"They wanted a person in a journalism class as a reporter for the first Children and Family Emmy Awards, and they specifically wanted me. She said that she had gone to research newspapers from elementary and middle schools, and she was searching for pieces that contained pop culture. She found the TikTok Trends podcast we did," said Makayla.
Between hopping on video calls to train with Alexa and attending her dance classes nearly every day, Makayla still managed to keep up with her schoolwork. 
"It was hard to both study and find time to call Alexa while I wasn't at dance practice, because I have dance nearly every day of the week." 
Makayla's parents wanted to prepare her, as well. "[They] made me look up all the nominees, shows, and people, so I knew my stuff when I went," said Makayla.  
Upon her arrival at the Wilshire Ebell Theatre in Hollywood, Makayla was anxious. She'd seen the red carpet on TV, but this was a whole new experience. For this event, the 'red carpet' was actually purple to correspond with the childrens' event. Competitions sometimes change the color of their rugs to create a unique environment, distinct from the traditional red carpet of the Academy Awards and Emmys. 
To relieve her nerves, Makayla practiced by interviewing Alexa and Maggie, the New York Times photographer.
"I was a lot more nervous because I was on the purple carpet. I had to be really energetic. I practiced with Alexa and Maggie who were both guiding me. As I kept doing it, I slowly got more comfortable. I would advise anyone with this opportunity to not be nervous. Trust me, they are just as shy as you," said Makayla.
It was initially difficult for her to nail the process. She had to state who she was with (the NY Times for Kids), ask them questions about the awards, and engage in a real conversation with them. Despite how challenging it was to talk with her idols, she didn't let the pressure get to her.
"I was a little tense, so I don't think I did that well. Especially the first one. But as the event went on, I think I got better. I started to smile a bit more, and I memorized the words and pronounced them clearly," said Makayla.
After practicing with Alexa and Maggie, Makayla flagged down her first conversation of the evening. 
"My first interview was with Asher Bishop, the voice of Lincoln Loud in Loud House.  He was very nice, but I was a little on the edge because sometimes I can be a bit shy.  I knew I was shaking a bit in my hands and I might've been a bit too quiet. So, I didn't think I did my absolute best," said Makayla. 
As Makayla's mom stood nearby, taking pictures and encouraging her along the way,  Makayla got to meet the voice of Spongebob, Donald Duck, the Baby Sitters Club, Joe Locke, and many others on the purple carpet. She enjoyed the rest of her night, mixing it up with people most teens would only see on a screen. 
"It was exciting to see behind the scenes of a real red, or purple, carpet. It was interesting to see the other side of the camera that wasn't featuring the flashy dresses and glamor. I didn't expect it to be so busy and cramped, but also really lively. My work got featured on the NYT Kids Instagram account and my article can soon be found in their monthly magazine. Overall I had a blast, and I hope I get to do something like this again."