8th Grade Survivor Ball
December 21, 2019
Fueled by the knowledge that this year's competition would be their last, DCIS 8th graders brought their A-game to the annual 2019 Survivor Ball Tournament. It's almost as if the last two years of competition were only practice, all in preparation for taking home the gold. 
8th grader Lauren A. kicked off the tournament with the national anthem, an amazing performance. As soon as the word "brave" hit the ears of the crowd, the gym erupted in cheers.
A few minutes later, Baljeet played Trent Disposal. Baljeet consisted of one player- Sohum M., an expert at dodging. The whole crowd chanted: "Baljeet! Baljeet!" There were even some boos toward Trent Disposal. Everyone wanted Sohum to win. However, much to the crowd's dismay, Trent Disposal eliminated Baljeet and continued to the semi-finals.
The Average Joes, Trent Disposal, Moms of the P.T.A, and the Smurfs lost to the Compton Daddies, Big Spoons, Chicken Nuggets 3.0, and Thick Thighs in the semi-finals. Those winning teams worked their way up to the top of the pyramid. Each of them were mean throwing machines. 
The final girls' game came next: Thick Thighs against Chicken Nuggets 3.0. Both teams played evenly until less than a minute was left on the clock. Isabella M. was the only Thick Thigh player left on the court, standing alone against six intimidating girls. In the final few seconds, Maddie H. from Chicken Nuggets 3.0 caught Isabella M.'s final ball, yet she stepped over the boundary line! The referees debated the outcome of the game before deciding that Maddie caught the ball before she overstepped. Chicken Nuggets 3.0 took home the gold!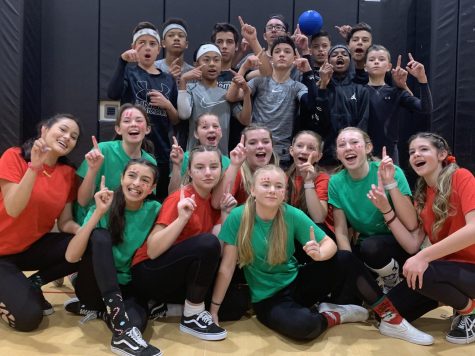 The boys competed soon after. When the Compton Daddies strolled confidently onto the court, the crowd began to boo! Most of the onlookers cheered loudly for the Big Spoons. Both teams fought hard, and the result was a very close match. Finally, the Compton Daddies took the lead, with four Compton Daddies against one Big Spoon. With 38 seconds left, Aidan C. made the winning throw, sending Caleb R. straight to the bench and the Compton Daddies to 1st place! 
This year's Survivor Ball tournament was awesome, Coyotes! Sadly, we won't see these champs again next year. But on the bright side, they fought hard and gave their all. This year's tournament was certainly one to remember.